Think Men Dominate Punk Music? These 7 Women Will Prove You Wrong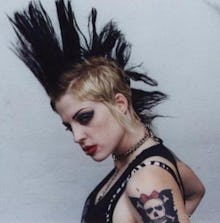 Iconic punk rock bands like Rancid, NoFX, and the Bouncing Souls owe their roots to the likes of Black Flag and even the infamously bad Flipper, and those bands owe their fame to Richard Hell and the Ramones. However, not all punk rockers of the mid-90s and early-2000s punk rock revival were men. There were plenty of women punk rockers who could hold their own in the pit just like the rest of them. From the early days of Gwen Stefani (before pop won her heart) all the way up to the Long Beach sound of the very un-Long Beach Paramore, women have been punk rocking and making PJ Harvey very proud. Here are the seven greatest women of the modern punk movement.
1. Gwen Stefani, No Doubt
Although if you want to get technical, No Doubt is a ska band, just listen to this song that the band recorded with Sublime and you will see it takes one hard lady to be able to pull off this masterpiece. Unfortunately this type of music doesn't make any one any money. Despite her foray into pop stardom, Gwen is still a Long Beach punk rocker at heart and every once in a while she can't help herself and still performs this song.  
2. Brody Dalle, The Distillers
This Australian born guitarist and vocalist was a mainstay in the East Bay in the mid-'90s, eventually forming one of the best bands of the decades, the Distillers. She also married punk rock legend Tim Armstrong of Operation Ivy and Rancid. Although that punk rock power couple is no longer together, Brody never needed Tim anyway.
3. Anne, The Soviettes
This band formed in 2000 in the land of 10,000 lakes. They released only one album into the mainstream and let's just say the sound reeks of Brit-punk (and not that annoying Brit-punk like the Helicopters or people who pass themselves off as Brit-punk like Snow Patrol). The Soviettes are the Buzzcocks reincarnate and Annie (last name redacted) kills it.  Also, they have the coolest band name ever.  
4. Agent M, Tsunami Bomb
Agent M is one of the few modern punk rockers to take on the old East Bay nickname tradition and forget what her parents named her. Ironically enough that is what most of Tsunami Bombs' songs are about: teenage youth, those restless 20-somethings, and watching your friends die. Although M's melodic voice means Tsunami Bomb often borders on pop punk, the band did everything the hard way.
5. Haley Williams, Paramore
Okay, go ahead, chastise me, but sparing her newest song (although I know you're secretly still into it), I have to put Haley Williams on this list. Paramore's first album Riot was pop punk, I'll admit, but Williams' vocals are reminiscent of early Gwen Stefani and Agent M. The guitar leans and the vocals shift throughout the song.  And let's put it this way, you don't headline for NoFX at Warped Tour and Leeds unless you did something right.  
6. Noelle, Damone
This post-hardcore band mixes classic and entertainingly un-emo vocals with, well, emo lyrics and music. Named after a character from Fast Times at Ridgemont High, Damone has its own sound but the band deserves mention as a prime example of scary women scaring people (that's a good thing, by the way). 
7. Civet, Son of a Bitch
The members of this band rotate a lot and they share the vocals too, so mentioning one over the others is not fair. That being said, a female hardcore band? That's awesome. The vocals are guttural and I am pretty sure that Henry Rollins might have fathered one of these girls. Along with Brody, Civet might be the only band on this list still doing punk that's stripped down and raw, the way it should be.