What 20 Famous Musicians Were Doing in Their 20s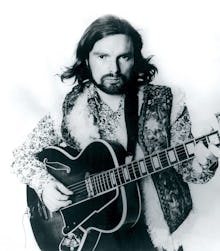 They say that what you do in your 20s comes to define you for the rest of your life. Here is a list of some of the most successful and influential musicians of all time and some notes on what they were doing in their formative decade.
1. Van Morrison
George Ivan Morrison, the Irish vocal powerhouse whose mark on music will be everlasting, began his 20s by cracking the UK Top Ten with "Baby Please Don't Go." Disillusioned with legal obligations to the record company, Morrison went in and out of music until he recorded Astral Weeks, a groundbreaking, critically-acclaimed masterpiece (and one of the most influential records of all time), at 22.
2. Jimi Hendrix
Jimi Hendrix redefined rock and roll. When Jimi was 21, he moved to Clarksville, Tennessee and formed a band called the King Kasuals. He made his living playing with various bands along the Chitlin' Circuit, a collection of music venues throughout the South. He quickly grew out of the scene (no surprise there) and moved to Harlem where he gained a strong foothold in New York. He played in Little Richard's band, but was fired due to tardiness and his flamboyant stage antics. This led to the formation of his band, The Blue Flame, which included a 15-year old guitarist named Randy Wolfe. Hendrix then moved to London, where Eric Clapton's 'discovery' of Hendrix marked the real beginning of a rock and roll legend. Sadly, Jimi died at the age of 27 — a quintessential member of the 27 club.
3. James Brown
Soul Brother Number One, James Brown, has a true rags to riches story. Having grown up in extreme poverty in the south, Brown hustled to get by. At 16, he was convicted of armed robbery, and was paroled right before his 20th birthday. Upon gaining freedom, Brown joined a gospel group and worked several jobs, including one as a school janitor. Brown soon met his idol, Little Richard, whose manager Clint Brantley agreed to manage Brown. This led to the release of his first hit-single "Please, Please, Please." But it was not until "Try Me" was released that Mr. Dynamite gained national acclaim.
4. Frank Sinatra
When it comes to being suave, Sinatra remains forever unchallenged. At 20, Sinatra got his first break when he landed a spot in a local group called The Three Flashes. The same year he worked as a singing waiter at The Rustic Cabin in Englewood, NJ. If only those restaurant-goers knew who they were listening to while they munched. At the age of 26, Sinatra enlisted in the army, but was rejected due to a punctured eardrum. That same year, in 1941, Sinatra was named Male Vocalist of the Year by Billboard Magazine for his work with Tommy Dorsey, and the following year Sinatra embarked on, what would come to be, a remarkable solo career.
5. Aretha Franklin
One of the biggest pop recording stars of all time, The Queen of Soul remains one of the best-selling female artists in history. She spent her early 20s signed to Columbia Records, churning out hit after hit of her gospel-driven soul. When she was 25, she boldly decided to leave Columbia for Atlantic Records. At Atlantic, she recorded the feminist and civil rights anthem "Respect" that same year. R-E-S-P-E-C-T indeed.
6. Bob Dylan
Legendary folk icon and great conjurer of the American spirit, Bob Dylan, was an angry and admittedly arrogant young man. He began his formative years with a move to New York City. He had traveled there in hopes of meeting his idol, Woody Guthrie, who was dying from Huntington's Disease, and who would mentor Dylan in his remaining years. In New York, Dylan immersed himself in the lively folk scene of Greenwich Village, where he was discovered by John Hammond. He then began a professional career that would make history. 
7. Jim Morrison
The Doors' brooding lead singer and self-proclaimed "King of Orgasmic Rock" moved from Florida to Los Angeles to attend UCLA when he was in his early 20s. There he delved into surrealist theatre and gained a degree from the Theatre Arts department, which deeply influenced his dark and macabre poetic tastes. His background in film would come into play during The Doors' music videos, such as the one for "Break on Through." His provocative and controversial stage presence would result in national criticism and fascination. Though believed by many to have staged his death, Morrison is reputed to have died in Paris at the age of 27.
8. Bradley Nowell
Another rock star who didn't see the light of 30, the rambunctious lead singer of Sublime led a fast life of drugs, booze, and music in Long Beach, California. His addiction to heroin was ultimately what killed him in a San Francisco motel room at 28 just two months before the classic record, Sublime, was released. The album rocketed the band to national acclaim. But in his 20s, he married, had a child, made three great records, surfed, and loved his dalmatian, Louie, dearly.
9. Notorious B.I.G.
Before he hit 20, Biggie was arrested for selling crack in North Carolina, and served nine months. However, his luck turned around when he turned 20 and got featured on The Source's "Unsigned Hype" column. This led to his discovery by Sean Combs (P. Diddy), with whom Biggie worked under Bad Boy Records. But national success brought Biggie into an intense East-West coast rivalry against Tupac Shakur, which many believe led to Biggie's death by a bow-tie wearing gunman.
10. Dave Matthews
The iconic bro-hero, Dave Matthews, spent his young 20s indulging his creative impulses in Charlottesville, VA, while making money working as a bartender. There, he started delving into songwriting and performing for the first time. But Matthews also pursued an acting career, appearing on the stages of several performances at Charlottesville's Offstage Theater and Live Arts Theatre. He has performed in various projects since, including a few films with Adam Sandler like Don't Mess With Zohan.
11. Django Reinhardt
The preeminent master of gypsy jazz was honing his guitar craft in Paris during his 20s after having to learn a new technique due to the loss of the use of two fingers in a gypsy caravan fire. The Belgian guitarist formed the Quintette du Hot Club du France when he was 24 and made some of his first accompanied recordings with that group. The Quintette would be Europe's first major jazz band.    
12. Miles Davis
This highly influential and controversial trumpeter of the jazz era began his 20s in New York City. He too attended Julliard School of Music. It was not long before he grew disillusioned with the formality and perceived racism of the school and chose to drop out to pursue music on his own. He soon fell under the mentoring of Charlie Parker, who provided him with an education in music as well as in drug use. Davis dealt with heroin addiction throughout his 20s, but continued to produce masterpieces in free-form jazz despite it.
13. Woody Guthrie
A folk singer who came to symbolize the 1930s American Dust Bowl, Woody Guthrie was a rambling man in his 20s. Leaving his newly married wife, Guthrie left Texas to join the thousands of Okies in California looking for work. There, he became involved with the American Communist Party and wrote a regular column called "Woody Sez" for the Communist newspaper. Though he never actually acquired official Party membership, his writing appeared 174 times from May 1939 to January 1940 in the leftist publication.
14. James Murphy
The founder of LCD Soundsystem, champion of guitar-driven dance tunes, and one of New York's top producers gave up an opportunity to write for the sitcom Seinfeld at the age of 22. He also turned down collaboration with Janet Jackson. Obviously, he knew what he was doing. He bounced around in punk bands until forming DFA records when he was 29. LCD Soundsystem didn't become famous until later.
15. Jerry Garcia
The face of the modern jam band and icon of the 1960s hippie movement, Jerry Garcia began his 20s with a close call with death. Garcia was in a car with two others when the vehicle hit a guardrail at 90 mph, thrusting Garcia out of the windshield. He suffered a broken collarbone while one of the other passengers was killed. Garcia deemed this a major turning point of his life that motivated him to take music — and himself — seriously. 
16. Bob Marley
The Jamaican king of Reggae had formed The Wailers by the time he turned 20, but had to take some time off from music to move to Delaware where his mother lived. There, he worked in a Chrysler assembly plant and as a lab assistant for DuPont. It was in Delaware that he became interested in Rastafarianism, and he was formally converted upon his return to Jamaica. Jah Rastafari then began his transformation into the international icon he is today. 
17. James Taylor
Sweet Baby James experienced a tumultuous 20s, battling drug addiction and mental illness. He was a shy, troubled young man who, in 1965, committed himself to the McLean Psychiatric Hospital in Massachusetts. It was there that he honed his songwriting skills. He moved to London soon after being released, and was signed to Apple records as their sole American songwriter, though his stay in Europe was short-lived. He moved to New York in 1969 and admitted himself to another hospital to deal with his heroin addiction. However, his luck changed in the 70s when he won a couple Grammy awards before his 30th birthday.
18. Fela Kuti
The Nigerian father of Afro-Beat, Fela Kuti studied music in London at Trinity College. He was originally sent to England to study medicine. When he returned to Nigeria, he trained as a radio producer for the Nigerian Broadcasting Corporation, but in 1967 moved to Ghana to further his music. There he would coin the term "Afro-Beat" and produce a collection of music that would inspire a continent.
19. Bill Withers
Bill Withers, the bona fide man of soul and writer of "Ain't No Sunshine" grew up in a backwater, coal-mining town in West Virginia. He joined the Navy at 17 as a means of escape. It was in the Navy that he developed his interest in songwriting, and, at the age of 29, a humble Withers moved to Los Angeles to pursue music. It wasn't soon after that he was a star.
20. Justin Beiber
Oh, wait ...