This Fart-Absorbing Underwear Will Change Your Life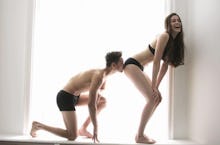 Shreddies Ltd., an unfortunately named British company that purports to sell "healthcare underwear," would like to help your ass out. They've invented a full line of men's and women's underclothing with one goal in mind: filtering your farts.
The underwear uses an absorptive panel made of activated carbon — a substance that's also used in water purification and (appropriately) gas masks — to neutralize whatever odors might otherwise be emanating from your underthings. The high-minded company suggests that their fart-proof clothing can aid sufferers of bowel diseases like Crohn's and ulcerative colitis, and isn't simply intended for the people who just can't stop going to that one taco truck. 
(Look, the tacos are really good.)
Testimonials on the company's website both speak to the power of their scent-deflecting briefs, and provide some insight into Shreddies' client base. Billy B. in Arizona writes, "All I know is that you guys probably saved my career! This underwear works!!!" William Schumacer of New Orleans writes, "As a lactose intolerant man of 26 years, the Shreddies underwear has revolutionized how I deal with my gas in public. I am very thankful for that." So are we all, William. So are we all.
Truly, we live in an age of wonders. I'm certain that Shreddies will come to fundamentally change how we live our lives, and not end up in the same sad and somewhat dangerous junk drawer as our Clap-Off Bra, Pilko Pants, eye jewelry, Ostrich Pillow, No-Contact jacket, and mop onesie.