Marijuana Legalization: Poll Shows Majority Of Americans Support Pot Legalization, Finally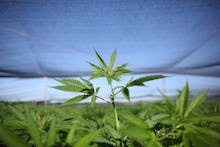 It seems that the U.S. is finally mature enough to admit that pot was never the youth-destroying menace it was once considered to be. A new Gallup poll has revealed that, for the first time, a decided majority of Americans approve of the legalization of marijuana.
Legalization has steadily been gaining support since Gallup began polling on the question in 1969, when only 12% of Americans supported legalizing dank kush, and 84% opposed.  
The change in attitude comes while only 38% of Americans admit to having toked some chronic, a number up from 4% in 1969, but equal to counts from the mid-80s. (Either parents are uncomfortable owning up to the lost years of their early 20s, or today's extra strong weed has been making them forget.) 
The poll comes on the heels of marijuana reform's recent electoral successes in Washington and Colorado, where it's now legal to possess and use weed for recreational purposes. Attorney General Eric Holder recently announced that the U.S. Department of Justice will stop imposing mandatory minimum offenses for non-violent drug offenders.
If we're going to be honest, sweet cheeba is really only a gateway drug to Domino's pizza. Perhaps this is the scourge we should have been fighting all along.