San Francisco ICE Protests: The Revolution Will Not Be Live Tweeted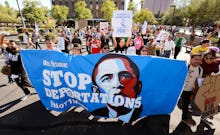 Last Thursday I came home from a long day of work to a Facebook feed that jolted me awake. At that very moment, 40 minutes away from me in San Francisco, protesters were blocking a bus from deporting its passengers, shouting and tweeting "Shut down ICE!"
I frantically began texting and calling friends, desperate to find a way to get there, but after an hour I finally accepted that it was not going to work. I sat down and began tweeting while watching the live stream, settling for a decidedly less exciting virtual presence at this historic event.
Because I could have been there, risking less to make the same statement.
And let's tweet it, Instagram it, or Facebook it, so that more people can, in turn, get up and meet us there.