10 Inspiring Short Story Collections to Cure the 20-Something Blues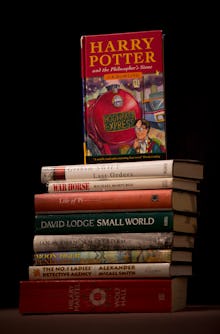 Literary fiction makes our lives better. We readers all knew this, of course, but this month Science made it official. So, the secret's out. However, this hubbub is only the most recent in a trend of hunting for utility in literary fiction (a quest resulting, perhaps, from the continuous tolling of literary fiction's death knell by both writers and readers). The School of Life's Bibliotherapy, for example, and the practice's associated book, The Novel Cure, prescribes works of fiction to treat ailments as far-ranging as lovesickness and obesity. My high school English teacher, confronted by a classroom's worth of teenage ennui, espoused literary fiction for its ability to provide a moral compass for youngsters. In the spirit of literary self-help, then, here's a list of excellent short story collections that will indulge, unravel, or alleviate your various 20-something woes.
1. Wanderlust
Jim Shepard, You Think That's Bad
Whether you're looking to excise your inner hikikomori or to take a trip to the gorgeous East, Shepard's stories will transport you in a manner that's neither literary tourism nor sci-fi. Shepard puts his powerful imagination to the task of reanimating past (or sometimes future) places and people.
Recommendations: "The Netherlands Lives with Water," "Classical Scenes of Farewell"
2. Addiction
Denis Johnson, Jesus' Son
Whether it's the drug du jour, alcohol, or your ex-lover, it doesn't matter: Denis Johnson has the cure. Perhaps one of the few works of fiction involving addiction where indulging feels as comfortable as restraint. Johnson's collection is unsensationalized and unapologetic. It's also funny.
Recommendations: Jesus' Son is as much a novel as it is a collection of stories. Read it front to back to follow the progression of its unnamed narrator.
3. Time (the constant lack of it)
Grace Paley, The Collected Stories
Late? Harried by mounting responsibilities? Or perhaps you're not where you thought you would be at 26. Maybe you just don't have time to read. Your eyes can only manage 140 characters. Well, Paley's short stories are exercises in compression, and yet she sacrificed nothing in her brevity. "Art," Paley explained in an interview with The Paris Review, "is too long, and life is too short."
Recommendations:
Shorter stories: "Wants," "Debts," "A Conversation with My Father"
Longer stories: "Goodbye and Good Luck," "Enormous Changes at the Last Minute"
4. An unfulfilled desire to run away with the circus
Steven Millhauser, We Others
Come one, come all! It's the greatest show on Earth. We Others is a circus act. Millhauser's Barnum Museum contains more of the uncanny than the original Barnum & Bailey shows ever boasted. Yet Millhauser's approach is quiet — the stories unspool in a leisurely manner that's subtle in comparison to the strangeness of his worlds.
Recommendations: "The Wizard of West Orange," "We Others"
5. Hubris
John Cheever, The Stories of John Cheever
You're brilliant and nobody knows it. Not yet, anyway. Until your genius is discovered, read Cheever. He's a master of writing men obliviously drunk on pride. The reader often understands the character's fate before the character does, and, because of this, a sense of sadness pervades many of the stories. Read for clues on developing self-awareness; Cheever's prose is humbling.
Recommendations: "Goodbye, My Brother," "The Seaside Houses," and "Reunion"
6. Nostalgia for a childhood that you didn't have
Stuart Dybek, I Sailed with Magellan
Robbed of that turbulent childhood that would have been ink enough to sustain your fiction career? It's okay — appropriate protagonist Perry Katzek's youth. Dybek's stories meander beautifully along the rails of memory and switch at junctions where the familiar sparks a new connection. The images are stunning: pigeons doing the polka, a sparkling blue sky, and the El train that roars through these Chicago stories and loops back and forth across Katzek's childhood.
Recommendations: Read the whole thing.
7. Listlessness
Lydia Davis, The Collected Stories
Down in the doldrums? The utter variety of Davis' work is enough to derail your humdrum routine and shake up your assumptions about short fiction. Combining Donald Barthelme's postmodern weirdness with the interior acuity familiar to modernists like Woolf, this short story collection cuts to the quick of your emotional core.
Recommendations: "Wife One in Country," "How Difficult," "St. Martin," "How Shall I Mourn Them?"
8. A tendency to empathize more with animals than with people
Abby Geni, The Last Animal
Your best friend is a cat. You come home to your dog. You keep a pet octopus. Octopus? That's right. Geni's collection is not explicitly about animals, but it's often in moments of interaction with animals that the raw, human emotions in the story surface. Quietly brutal at times, these stories remind us that people can be beasts, and that beasts are sometimes ample substitute for people.
Recommendations: "Captivity," "Terror Birds"
9. Loneliness
Deborah Eisenberg, The Collected Stories
"Loneliness: there is no organ can take it all," says Leo Gursky of The History of Love. Eisenberg's impressive body of work — both in its scope and prose — can be read as an attempt to "take it all." Certainly, the collection is not a meditation on loneliness, but the way the language oscillates between spells of lavishness and extreme sparseness serves to heighten the sense of presence and absence. Characters are so convincingly rendered that reading these stories evokes more than empathy from the reader — you feel solidarity. Eisenberg's stories are tonic for the wounded soul. 
Recommendations: "Transactions in a Foreign Currency," "Under the 82nd Airborne," "Someone to Talk To"
10. None of the above
David Means, The Secret Goldfish
You're a well-adjusted young person with lots of friends. And you hate pets. That's swell. That's also not the case for Means' characters. This collection is a study in inhabiting the minds of others. Means writes interiority with frightening perspicacity and variety. Put yourself in the characters' shoes and let them mess you up.
Recommendations: "Sault Ste. Marie," "Blown from the Bridge"