AirBnb Brings $632 Million Windfall to New York City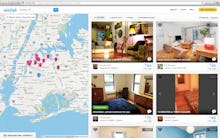 Airbnb, a San Francisco based social networking/lodging arrangement startup, recently commissioned a study which found that New York City rentals alone generated $632 million in economic activity. That's nearly as much as the national GDP of Samoa!
Started in 2008 by Brian Chesky, Airbnb brings a lo-fi couchsurfing mentality to the lodging industry, and has become a serious contender to traditional hotel chains such as Hilton.  Would-be landlords can post their rooms, full apartments, and other vacant housing spaces for rental. Surprisingly, these vacant lodgings can even include more exotic fare such as castles, villas, boats, tree houses, and more. Airbnb's unique selling points lay in its lower-than-normal fees for comfortable lodging, and its ability to allow anyone to have an affordable getaway straight out of a movie.
Beyond providing an affordable alternative to the big chains and a comfortable alternative to the seedy motels dotting the city, Airbnb claims that its guests actually stay longer and spend more money while on their visits. Additionally, 87% of hosts are renting out their own private homes and property, and the majority of these hosts say that they depend on income earned here to make a living. Furthermore, the micro-economy created in response to the necessity for hospitality-related services has helped support some 4,500 jobs.  All of this to say, Airbnb allows visitors to New York the opportunity to immerse themselves in the diversity and culture of the city beyond the typical tourist attractions, and businesses around the city to develop clientele they wouldn't normally have access to.
Airbnb wants New York City officials to keep all of the positive effects its service brings in mind as it fights to win out against a 2011 law prohibiting property rentals of less than 30 days within the city.