This Company Was Sued For Peeking in On Its Customers With Webcams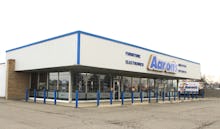 Three years ago, a young couple got an unexpected visit at their home in Casper, Wyoming. It was a store manager from Aaron's, Inc., who came to collect the rent-to-own computer that Brian and Crystal Byrd had borrowed, mistakenly thinking the couple didn't make the full payment to date. But the short visit didn't end there. In the process of figuring out whether the fee was paid, the manager "flashed a photo of Brian Byrd" taken by the computer's webcam.
A police report was filed, and a lawsuit ensued. In 2011, Aaron's reportedly said "the lawsuit was meritless" and that the company "respects its customers' privacy and hasn't authorized any of its corporate stores to install the software described in the lawsuit." However, on Oct. 22, the Federal Trade Commission (FTC) announced that Aaron's agreed to settle FTC charges, which said Aaron's "knowingly played a direct and vital role" in using spying software on rental computers.
So what could this software do? Known as "PC Rental Agent," the software included a "Detective Mode" feature, which can monitor keystrokes, activate the webcam, take screenshots, and collect users' personal information using "deceptive 'software registration' screens.'"
As agreed, Aaron's will no longer use such monitoring technology, and should "give clear notice and obtain consent from consumers" to install technology that tracks location of a rented product. But this is yet another sore reminder — not reassurance, that present day's war on personal privacy protection is far from over.