NYC Mayoral Debate Recap: Stop and Frisk Becomes Major Flashpoint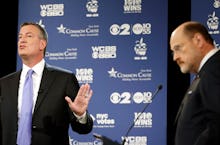 On Tuesday evening, New York City mayoral candidates Bill de Blasio and Joe Lhota faced off in the second mayoral debate over public safety, affordable housing, and taxes. In the debate, Lhota and de Blasio painted two radically different visions of the next mayor of New York. They presented voters with a choice between the tough-on-crime, workhorse former MTA chief Lhota and the progressive, visionary public advocate de Blasio.
Public safety took center stage in the debate as the most contentious issue of the evening, with de Blasio and Lhota sparring over New York's controversial Stop and Frisk policy and the need for police reform. Reforming Stop and Frisk has become one of de Blasio's signature issues, while Lhota supports continuing the current practice.
Lhota's recent campaign advertisement went so far as to claim that de Blasio's public safety policies will lead to race riots and increased murder rates.
De Blasio decried the advertisement as "fear-mongering" and "race-baiting."
"The ad is filled with images that try to create fear and negative feelings and he should be ashamed," said de Blasio. He compared the ad to the infamous "Willie Horton" attack ad against Michael Dukakis in the 1988 presidential race.
In the debate, Lhota reiterated his ad's claims and called de Blasio "reckless" on public safety.
"We cannot handcuff our police department," said Lhota of proposals by de Blasio to create an inspector general for the police department and institute Stop and Frisk" reforms.
In response, de Blasio emphasized that he shared voters' concerns about public safety and wanted to find ways for the police and communities to work together better moving forward.
"Obviously I understand the incredible strides we've made and the great work done by the NYPD and we want to keep that going, keep that going strong. I believe that we can do it even better, we can bring police and community back together by ending the overuse of Stop and Frisk and the division it's caused."
Safety was a central theme for Lhota, who framed the election as a decision about public safety.
"Mr. de Blasio talks up the NYPD but he has policies that will not make us safer. We are one mayor away from unsafe streets, unsafe schools, and unsafe fiscal policy," said Lhota. He concluded the debate by asking voters, "In two weeks, when you go to vote on November 5th, for your sake, for your child's sake, do you want your vote to be safe or sorry?"
In contrast, de Blasio concluded by returning to his own campaign theme of a "tale of two cities." Throughout the debate, he focused on his proposals to reduce inequality in the city. He raised issues of affordable housing and universal pre-kindergarten programs. He defended his propsosal to provide pre-kindergarten programs by raising revenue on the wealthiest New Yorkers by pointing out that Bloomberg had proposed similar rates a decade earlier.
Lhota sought to portray himself as a workhorse above the partisan fray. He highlighted his experience working with both Republican and Democratic public officials, including the former Republican Mayor Rudy Giuliani current Governor Andrew Cuomo, a Democrat.
Despite both candidates characterizing the other as intractably partisan, Lhota and de Blasio managed to find common ground on several issues. They agreed on Governor Andrew Cuomo's proposed gambling measure, raised concerns about green cabs, and stated their desire to ban horse carriages in Central Park.
As Lhota and de Blasio head into the home stretch of the campaign, public safety will likely continue to dominate headlines and the talking points of both candidates. De Blasio will either ride to victory on the back of Stop and Frisk reform or Lhota will pull off an upset by successfully tapping into voters' fears about public safety.
Watch the full debate video via CBS New York