Jets Brawl Brings Out Worst in NY Post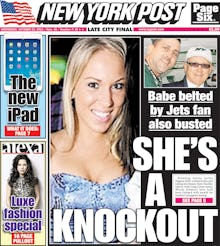 After the New York Jets defeated the New England Patriots last Sunday thanks to a controversial call in overtime, most Jets fans stormed out of the stadium celebrating, but not all were happy. Kurt Paschke, a 38-year-old Jets fan from Long Island, got into an altercation with a group of Pats fans that ended with him punching Jaclyn Nugent of Marlborough, Mass. across the face. Video of the incident went viral and more details have surfaced as to the cause of the fight, but the New York Post seems more interested in talking about Nugent's looks than the actual case.
The front cover of today's Post is a photo of Nugent with the headline "She's a Knockout." That phrase has a double meaning (duh). The story only makes it worse. The writers refer to her as a "beautiful Boston blonde" and note that "Photos on her Facebook page show she loves short skirts, the beach, and partying." So what? Everyone has photos on their Facebook page like that. What is the Post trying to insinuate by including that in the story? (Hint: it's something sexist.)
Despite spending far too long talking about Nugent's appearance, the story does unearth some new information in the case. An officer told the Post that Nugent and a female friend instigated the attack, kicking and punching Paschke. A male friend also joined in on the fight.
Even if the women were instigators, Paschke's response is entirely unacceptable. The video reveals how disproportionate his response was to the girls' attacks. This isn't the first time that he's found himself in legal troubles, either. Paschke spent three years in jail for criminally negligent homicide after he fatally stabbed a young man in 1992.
All four people (Nugent, her male and female friends, and Paschke) face assault charges and are due in court in November.
This entire fight was a mess. The girls should not have lashed out Paschke and Paschke responded with way too much force. Then, the Post lived up to its name as a tabloid newspaper, trying to turn the discussion to Nugent's appearance rather than what actually happened. That's unacceptable behavior all around.