The Twerking Feminist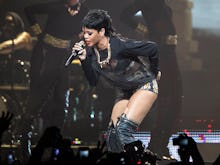 Rihanna's latest video, "Pour It Up," has garnered more than 50 million views on VEVO. The single has peaked at number one on Billboard's "Hot R&B/Hip-Hop Airplay" chart, and has continued the singer's reign as the queen of vulgarity.
Despite its popularity, "Pour It Up" has attracted negative responses from writers and cultural critics. This is not shocking, since the video offers such brash and bold imagery. For a little over three minutes, an array of women — including the Barbadian entertainer — pop their cheeks on floors full of water, stripper poles, and gold-laced thrones. The visuals align with the record's message of throwing dollars in the strip club, but the mixture of dark-lighting, bikinis, and exotic dancing ignited a feminist frenzy around Rihanna's right to drop it low in the strip club.
However, what critics of the video are missing is that all women — especially millennial black women — aren't confined to the feminist perimeters of "good" and "acceptable" sexual expression. Millennial black women — like Rihanna — are evoking their agency by popping, twerking, and gyrating on poles.
Critics are offering one-dimensional critiques that don't account for Rihanna's agency, and how that manifests in a turbulent space of sexual expression and male objectification. Bustle's Tori Telfer claims exotic dancing is empowering, but the "Pour It Up" video is "humiliating and kind of gross" because it is purposefully voyeuristic to adhere to the male gaze. VIBEVixen's Nicole Brown questions how the video is perceived by the audience, since "no amount of parental supervision will keep girls of any age from accessing the NSFW content."
Both responses are worth dissecting, especially since the intersections of Rihanna's nationality, race, and gender impact how "Pour It Up" is received and ingested. However, neither critique tackles what agency is, and how it manifests for millennial black women like Rihanna.
When feminism's third wave emerged, some leaders — like Rebecca Walker and Joan Morgan — advocated for a shift in feminist identity. They forged a space for feminist women to make objectionable individual choices and still maintain their commitment to the movement.
In the introduction to her edited volume To Be Real, Walker sums up agency as the ability to make choices without worrying about "constantly measuring up to some cohesive fully down-the-feminist-cause identity without contradictions and messiness and lusts for power and luxury items."
Morgan continued this thought by exploring hip hop culture as a site for developing a feminist identity. She writes that "truth is no longer black and white but subtle, intriguing shades of gray." This statement and her coining of "hip hop feminism" served as the groundwork for developing a space for women to engage in "problematic" behavior  like twerking, listening to hip-hop music, and dating non-feminist men — while also promoting women's equality.
Rihanna has never publicly identified as a feminist and I will not place the label on her. But her admiration of Madonna, sexually-brazen performances, and boundary-pushing music places her in the feminist conversation. I admire her because she performs womanhood however she pleases, despite the centuries of oppression attached to her black female identity. She doesn't place boundaries on her sexual expression, which is important for other young black women — like me.
I have identified as a hip-hop intersectional feminist or womanist since early 2012. One of the hurdles I had to overcome was reconciling my controversial preferences with feminism's expectations.
I adore hip-hop music, though I know the culture often excludes and degrades bodies that look like mine. Nothing beats Waka Flocka Flame's Pandora playlist on those late nights when I'm working hard and the to-do list isn't dwindling.  
Feminism's grey space allows us to twerk and still advocate for female empowerment. Black women haven't often been afforded the space to claim their bodies and express their sexuality, but Rihanna doesn't care. She twerks and promotes strip club culture as a site for her empowerment.
According to Monique E. John, a student examining strip club culture, strip clubs and what happens in them can serve as a space for female liberation. She writes that strip club culture is about "women celebrating a construct historically representative of their own oppression as sexual beings and people of color."
I'm proud to twerk, and I twerk a lot. I twerk in seedy clubs. I twerk in the mirror. I twerk alone. I twerk on men. I twerk with friends in strip clubs. What Walker and Morgan helped me realize is that I am no less feminist because of it.
And, if feminism is about empowerment, I'd argue that I'm even more feminist for it.