Arcade Fire's New Song Will Take Every Indie Kid Back to High School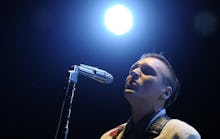 Arcade Fire are never less than epic. Since their first album, Funeral, their songs have tended towards the apocalyptic side of anthemic (perhaps best illustrated by the "Intervention" line "Working in the church while your family dies"). Their live shows feel fittingly momentous. Win Butler always looks like he's staring some evil spirit down while his brother is typically running around the stage hitting things in religious ecstasy. So when their new song, "Afterlife," turned out to be a song about death and what comes after as a metaphor for the fallout from a relationship, no one could really be surprised. No one should be surprised by how great it is, either. 
The group released the song through a lyrics video that superimposed the track's lyrics over a clip from Marcel Camus' 1959 film Black Orpheus. Camus' film dramatized the myth of Orpheus and Eurydice (a myth that's suitably tragic territory for Arcade Fire). As the story goes, lovers Orpheus and Eurydice are about to be married when Eurydice is killed. Orpheus mourns the loss through his music, which is so incredibly sad that the gods tell him to go get Eurydice from the underworld (this is sort of what I imagine happened to all mid-2000s emo bands, but I can't be sure). He gets her back from Hades under the condition that he not look at her before they return to the land of the living. He fails; she vanishes.
Arcade Fire hasn't been talking to God, but it seems like they may have been to hell and back. This song is among their more dramatic material, but it's a driving cut. LCD Soundsystem's James Murphy's production influence is palpable in the bongo drums, distorted tremolo lead guitar lines, and the seething synth bass in the song's chorus. But the lyrics and melody are firmly in the band's wheelhouse. Butler sings dialogically of a relationship "But you say 'Oh, when love is gone, where does it go?' / And where do we go?" If their new album is anything like this song (and veers away from the rote hipness of lead single, "Reflektor"), they may have another classic on their hands.