How This Gay Couple Defied State Law and Got Legally Married in Oklahoma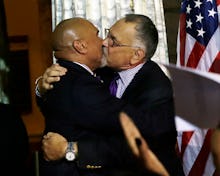 Amidst the many same-sex marriages that have resulted from the Supreme Court's decision to allow same-sex couples to receive the same benefits as married heterosexual couples, a particularly inspiring story has come out of Oklahoma.
Jason Pickel, 36, and Darren Black Bear, 45, have been together for eight years and were finally married under Native American tribal law, circumventing a state law that prohibits same-sex unions. The couple had been engaged for several years and was planning a trip to get married in Iowa, where gay marriage is legal. But their plans abruptly changed when they were allowed to obtain a marriage license from the Cheyenne and Arapaho tribes, which they picked up from the tribe's courthouse on Friday.
The two men are now planning a ceremony to be held in their own state, much to the chagrin of Oklahoma's conservative right. In 2004, the state amended its constitution to define marriage as a union between a man and a woman. Attitudes have not changed much in nearly a decade since the amendment was passed. The state's staunchly conservative Gov. Mary Fallin (R) is still crusading to protect so-called "traditional marriage."
Despite the pervasive conservative ideology of the "Sooner State," the Cheyenne and Arapaho tribes were happy to give these men the marriage they desire. Native Americans have long been accepted homosexuals, who some believe possess spiritual gifts. Accordingly, Native Americans do not require that the marrying parties be different genders, therefore allowing Pickel and Black Bear to get married in their home state.
This wedding speaks volumes about the struggle for greater LGBT rights in America. Not only are couples refusing to accept no for an answer, but institutions are actively finding ways to skirt anti-gay laws. Politicians are getting involved in the debate in support of the still-marginalized group. Communities are coming together to cheerfully celebrate each new marriage.