Immigration Reform 2013: John Boehner is Closing in, But Don't Expect Much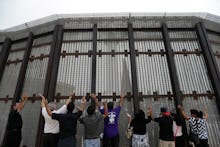 House Republicans have settled on a strategy to repair their shoddy image after the government shutdown. At a news conference on Capitol Hill Wednesday, House Speaker John Boehner (R-Ohio) expressed confidence that an overhaul of the nation's immigration system could be achieved in the five short weeks during this legislative session, stating "I still think immigration reform is an important subject that needs to be addressed. And I'm hopeful." The Speaker's comments came after a closed-door meeting among Republicans to discuss legislative items under consideration for the next few months. Additionally, Rep. David Valadao (R-Calif.) mentioned at a separate news conference that Boehner had indicated to him that a vote on immigration reform is possible before the end of the year.
The renewed interest in immigration reform comes at a pivotal time for House Republicans. Ever since the Senate passed a bill back in June, progress on reform has been stalled in the House, where any sort of substantive action has stagnated. Wednesday's statement comes just a week after the end of a bitter budget battle in Congress that not only distracted from the momentum to pass immigration reform, but also severely hurt the public image of congressional Republicans. Boehner's statement also comes one day after he refused to meet with 44 undocumented individuals who had travelled 2500 miles to meet with him and ask him to bring immigration reform to a vote. Similarly, business groups, religious organizations, labor unions and Congressional Democrats area also pressing for immigration legislation.
So do Wednesday's comments represent a Republican Party caving to pressure from outside groups, or one that is posturing to repair its public image? Maybe both. After their embarrassing defeat last week, the House GOP needs to find a way to show the public that they are an efficacious party that is willing to compromise. What better way than to finally seriously pursue immigration reform?
But the odds are slim they can pull it off in five weeks, thanks to a generally unproductive Congress containing a bitterly divided Republican Party. Even if they did, it would most likely differ from the version passed by the Democratic-controlled Senate. But for now, supporters of immigration reform can at least take solace in this new willingness from the GOP to consider passing immigration reform.