7 Terrible TV Shows That You're Not Alone in Secretly Loving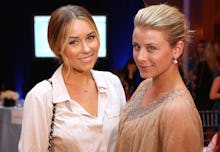 With an explosion of viewing options out there producing premium content — not just cable networks like AMC and HBO, but streaming sites like Netflix and Hulu — it's never been a better time to be a television viewer. That being said, what we want isn't always good for us. Here are the seven shows that may be terrible, but that you're not alone in secretly (or not so secretly) loving.
1. 'Pretty Little Liars'
Alright, so no one is holding their breath waiting for PLL, as it is affectionately called, to be awarded an Emmy anytime soon. And the premise isn't exactly groundbreaking — another soapy high school drama with a knock-your-socks-off gorgeous cast. But that hasn't stopped the show from being one of the most successful guilty pleasures on TV. It even spawned a recent spin-off, Ravenswood.
2. 'The Hills'
From the Natasha Bedingfield theme song to the sun-soaked California locale to the larger-than-life drama, The Hills was an all-time classic when it comes to beloved terrible TV shows. Throw in the ultimate reality TV villains in Speidi, and you have a recipe for success. Sure, it was vapid entertainment, and the ending hinted that the whole "reality" of the series was a sham. But that didn't make the antics of Lauren, Audrina, Whitney, and Co. any less memorable. If there was a Guilty Pleasures of TV Hall of Fame, The Hills would be in on the first ballot.
3. Any Installment of 'The Real Housewives'
Pick your poison — New York, Orange County, Beverly Hills, New Jersey, Miami, Atlanta, or Washington D.C. — and buckle up for safety, because it's going to be a wild ride. What The Hills did for spoiled 20-somethings, the Real Housewives franchise does for spoiled, well, housewives. The recipe is simple. Pick a city, any city, and choose a handful of Chardonnay sluggy, Botox-injected trophy wives. Have some cameras follow them around, and let the sparks fly. It's been working for Andy Cohen and Bravo, and the Real Housewives juggernaut doesn't appear to be slowing down any time soon.
4. 'Teen Wolf'
If you're a fan of very good looking men, then you probably already know about Teen Wolf. This MTV series may have one of the best-looking casts on all of television, but the critical acclaim can stop there. Teen Wolf is eye candy, plain and simple. Yes, it's the hunkiest show on television with plot lines, werewolves, and such, but eye candy nonetheless. 
5. 'Revenge'
What started out with so much promise has fizzled out fast. Revenge was the must watch campy-soapy thriller in its freshman season, and appeared to be the heir apparent to ABC's Desperate Housewives. Madeleine Stowe's delicious turn as evil matriarch Victoria Grayson even earned a Golden Globe nomination. But then things went sour in the second season. Revenge is back for round three this fall, and while other network soaps like Scandal may overshadow it, it still remains a guilty pleasure for many.
6. 'Keeping Up With The Kardashians'
You have to hand it to the Kardashians (and Ryan Seacrest, who produces their shows on E!): They truly have created something out of nothing. America's First Family of Reality TV keeps on chugging along, throughout the weddings, divorces, and other tabloid-worthy events. And while we wonder why exactly they're so famous, Kim, Kourtney, Khloe, & Ko. continue to laugh their way to the bank.
7. 'The Bachelor/Bachelorette'
While "true love" and "reality television" may make for awkward bedfellows, that hasn't stopped millions of viewers from tuning in week after week to catch the romance, heartbreak, and drama of ABC's hit dating series. Yes, it's schlocky trash, but we gobble it up regardless.