CGI Federal: Here's Why Healthcare.gov is So Screwed Up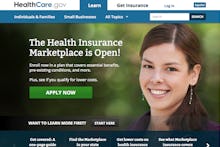 It hasn't been a great year for federal contractors. In the frenzy to find a culprit for Obamacare's website woes, much of the attention has been diverted to the contractors hired to build healthcare.gov, chief among them Montreal-based CGI Federal. However, CGI, a 36 year-old firm that handles over $8 billion in government contracts with some lobbying activities on the side, is hardly unique. Rather than exposing CGI as exceptionally incompetent, condemn the multibillion-dollar federal contracting industry.
CGI Federal specializes in IT government services, having done work on both the state and federal level. For example, they have contracts to streamline visa processing in China and helped California reform its tax processing system. In 2008, CGI was awarded a $135 million contract to work on Medicare Advantage & Part D systems. Because of the rules governing how the federal government awards contracts (which generally favors working with firms that have previous experience), this contract made CGI one of the few IT contractors that could effectively bid for future contracts with the Department of Health and Human Services. By the time they won the contract to build healthcare.gov, they were only one of four companies in the running.
Healthcare.gov was not their only Obamacare-related contract. CGI also helped Colorado, Massachusetts, California, and Kentucky set up their own state health exchanges, many of which have gone up without a hitch. Kentucky's in particular has been cited as an example of how such exchanges are supposed to work, leading many to argue that the fault of healthcare.gov's failed rollout must lie with the federal government, not CGI. But CGI does not exactly have a pristine history of perfectly executed contracts. A botched attempt to build healthcare registry in Ontario went so badly that the Canadian government just gave up, walking away from a $46.2 million contract after years of missed deadlines. Vermont's healthcare exchange, also setup by CGI, has been an object of ridicule for some state legislators who point to shoddy work and missed deadlines.
Despite these problems, CGI isn't likely to suffer any real, long-term consequences. Their federal healthcare contracts have grown 90% every year, and, after October 1, their stock still went up 4%. Now that they have "experience" working on large federal contracts, they are likely to remain one of the few, competitive firms the federal government will turn to for healthcare IT solutions. Unlike the private sector, the world of federal contracting seems to be such a labyrinth that success depends more on knowing how to navigate it than on doing a good job. So trashing CGI won't fix a thing. Move on and repair the whole system.