Why the Congressional Hearing On HealthCare.gov Crashed Like the Site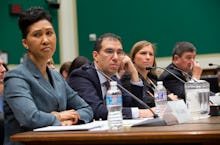 During the first congressional hearing to address the botched rollout of the HealthCare.gov website, which chairman of the House Energy and Commerce Committee Rep. Fred Upton (R-Mich.) called "nothing short of a disaster," a whole lot of nothing got done as it was dominated by finger pointing and partisan bickering.
The four witnesses that represented CGI Federal, Optum/QSSI, Equifax Workforce Solutions, and Serco provided few real answers other than a cool-handed assurance that problems would be fixed "soon" and they were working on it "around the clock."
That's really as detailed as the witnesses were willing or able to get, though some, like Rep. Diana DeGette (D-Colo.), were willing to give the contractors "the benefit of the doubt." Some representatives were sympathetic (designing such a website is no doubt quite complicated) but DeGette added, "These problems need to be fixed fast." 
But this was not the case with every Democrat. With Silicon Valley falling under her district, Rep. Anna Eshoo (D-Calif.) decried the witnesses and their apparent lack of concern over the bugs. She said, "It's 2013. There are thousands of websites that handle concurrent volumes far larger than what healthcare.gov was faced with."
Addressing Cheryl Campbell, the representative from CGI Federal, she continued, "You keep speaking about unexpected volumes … I think that's really kind of a lame excuse. Amazon and eBay don't crash the week before Christmas."
Republican lawmakers, on the other hand, used the hearings to continue their opposition to the Affordable Care Act. For the most part, they complained about everything from the lack of management or oversight by any of the four involved developer companies, to the idea that the website's failure is a clear sign that the whole program is a doomed waste of Americans' time and tax money.
Some committee members considered the lack of site testing inexcusable. Rep. Brett Guthrie (R-Ky.) said he predicted these problems and that if more people (including the left-wing media) knew the website wouldn't have worked properly, Obamacare would have been postponed and the whole government shutdown would not have happened.
Others, like Rep. Ralph Hall (R-Texas) took a more direct approach and said that of his 700,000 constituents, he thinks about 690,000 of them "hate the Obama law." 
The House committee members spent most of the hearing getting very little done. Perhaps Rep. Frank Pallone (D-N.J.) summed it up best when he called the hearing a "monkey court."