Feminist Weekly: What's the Story, Wishbone?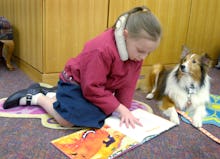 Editor's Note: Every Thursday, I'll be rounding up my favorite Identities pieces from the past week so that PolicyMic Pundits can more easily read and comment on the great content being written about sex, sexuality, gender, and race in politics and culture, in addition to updates from our community and GIFs galore! You can subscribe to get updates delivered straight to your inbox.
Highlights This Week: 
Since I started working for the internet full-time, I made a solemn vow to read an entire print book every week, alternating fiction and non-fiction. This week, I'm reading Rebecca Solnit's The Faraway Nearby. It's a gorgeous, stirring, exquisitely structured memoir, and I highly recommend it. 
Solnit writes, "What's your story? It's all in the telling. Stories are compasses and architecture; we navigate by them, we build our sanctuaries and our prisons out of them, and to be without a story is to be lost in the vastness of a world that spreads in all directions like arctic tundra or sea ice…
What did you do last week? I'll share any outstanding writing achievements in our community, and highlight the great work that all of our Pundits do offline as well. If you have anything you'd like for me to include about yourself or a fellow PM writer, please send it along!
Must Reads From Last Week:
Why Young Women Are Snapping Shots Of Their Boobs On Things (Andrea Garcia-Vargas, @AGarciaVargas) — The psychology behind #mamming, selfies for a cause.