Pinterest Valuation Might Not Live Up to All the Hype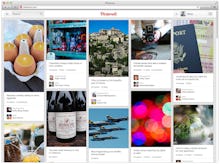 Scrapbooking just reached a whole new level. 
Pinterest, a virtual scrapbooking site that allows users to "pin" or aggregate images from around the internet onto a single collage-like interface, just won a $225 million round of equity funding, the company reported on Wednesday. This elevates the social media website's value at $3.8 billion, making it one of the most valuable privately held consumer internet companies. Its first round of virtual capital financing took place only 2.5 years ago. 
While it has received enormous financial backing from powerhouse venture capital firms, Pinterest has yet to prove whether it can transition from generating investment dollars to generating revenue. And with Facebook and LinkedIn already public along with Twitter coming down the IPO pipeline in just a matter of weeks, Pinterest's ability to earn revenue could become a concern. With the website's high valuation, the attention will undoubtedly turn to whether it can profitably open its brand to trade.
The company plans to expand internationally and use the newly acquired funding to develop its mobile apps. Last month,  CEO Ben Silbermann revealed a new feature called "promoted pins" to generate ad revenue for the site, similar to Twitter's "promoted tweets," which allows advertisers to target relevant audiences. 
However, despite drawing almost 50 million unique monthly users, user loyalty remains an issue. In a recent survey by Reuters and Ipsos, 26% percent of the 807 polled who had signed up for Pinterest said they no longer use the service anymore. Nine percent of members have shut down their accounts.
Having strong brand recognition and a strong internet presence is not commensurate to earning profits. When Facebook went public, its performance did not live up to the frenzy. Shares plummeted on its first day of trade, and the company did not regain its IPO valuation until more than a year later, in August 2013.
It is hard to believe that scrapbooking could attract attention from venture capital investors such as Bessemer Venture Partners, Firstmark Capital, and Andreessen Horowitz. But they clearly see its potential — so here's to hoping Pinterest lives up to the billion-dollar hype.