Condé Nast's Unpaid Internships Are No Surprise To Me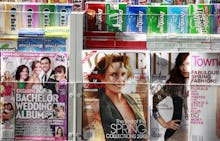 As a Mexican American, the word "unpaid" is highly charged for me. In "unpaid"  I hear the history of Mexican labor in the United States. I hear my family's stories, and I hear how this diasporic memory extends throughout the generations.
I can't hear "unpaid" without it thinking of under-the-table payment, bartered work, domestic work. I think: unrecognized labor and unrecognized people are, in fact, vital parts of our society and economy.
If we look closely at the news, we can see this type of disregard happens on micro levels every day. Condé Nast, publisher of Vogue, Teen Vogue, The New Yorker, W, GQ, and more, is the latest in a strand of companies being sued by former interns for lack of payment. Rather than change their labor practices to pay their interns the minimum wage as outlined in the Fair Labor Standard Acts, Condé Nast announced their decision to discontinue their internship program completely in 2014.
Why should we care about these particular low-wage/unpaid workers? After all, these types of internships are the training grounds for professional careers and have historically been filled by college students or recent graduates. In fact, the two former interns suing Condé Nast, Lauren Ballinger and Matthew Leib, are graduates from Northwestern University and the New School. They aren't exactly oppressed.
For one, internships aren't just for college students anymore. Interns span a wider range of ages, including Doug McKinlay, a 71-year-old intern at the Richard's Group.
Additionally, the company's decision to discontinue its internship program instead of taking  economic responsibility is telling in a broader context. Shining a light on this type of sophisticated exploitation highlights the pervasiveness of it across class lines, and can direct us to places where it is rampant.
It is increasingly important that we educate and ally ourselves with worker movements. How much longer will we have to wait if we continue to leave it up to corporations  like Condé Naste (or anyone in power for that matter)  to "do the right thing?"
The fact that rich companies openly exploit more privileged workers is alarming. Just think about what else is happening out there.