Russell Brand Puts Into Words How Every Millennial Feels About Politics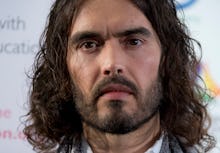 lFans would expect an interview between the broadcasting heavyweight Jeremy Paxman and the flamboyant actor-comedian Russell Brand to create fireworks. And this interview certainly did.
In an interview for BBC's Newsnight, Brand laid out why he was selected for being a guest editor of the popular New Statesman political magazine, made a slight at London mayor Boris Johnson, and debated the current political climate, to which Brand has accused the leadership of creating a "disenfranchised, disillusioned underclass."
Towards the interview's end, Brand referred to Paxman's appearance on the popular BBC genealogy show Who Do You Think You Are?, where his ancestors were said to be unduly treated by the British aristocracy. Brand says the system has changed little since that time and real alternatives need to be found.
However, under Brand's jester-like view of the world lies a well-read analyst who has been applauded for his essays in British broadsheets, especially for his stirring rebuttal to the UK Parliament inquiry on drug use in April 2012. The testimony in its entirety is certainly worth a watch.
This interview with Paxman is not the first time Brand has spoken out against government action on its people. Last summer, Brand took to MSNBC to promote his U.S. comedy tour and diverted the conversation towards whistleblowing, a hot topic at the time, much to the bemusement of the severely under-prepared panel.
Brand has made a career out of being unique in both his journalistic endeavors and personal life, and this interview can be added to his plaudits. Both Brand and Paxman stood their ground, which made the conversation interesting and humorous at times.