Stop Being Afraid Of Online Dating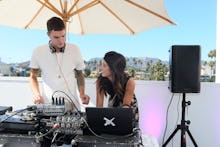 I first moved to New York City a little over a year ago with seven other New York City rookies and a deactivated OkCupid account.
I had tried online dating before living in New York and was shy to admit it, despite the fact that a recent Pew study shows that 38% of those who identify as "single and looking" use dating websites. But here in my new apartment, there were seven new people in the flesh, seven new groups of friends to meet. Chances to forge both platonic and romantic relationships!
As the eight of us settled in together, we shopped communally for cleaning products on Soap.com and for groceries on Fresh Direct. I learned about HopStop, an app to plan MTA commutes. At my new job, I was introduced to professionals in my field via email and attended webinars from the comfort of my office. On the weekends, my roommates and I perused Yelp to decide which Seamless restaurant to order from and find out which neighborhood bar was open until 4 AM. As it turned out, the new friends I expected my roommates to invite over rarely arrived.
I joined the ranks of the 38%: single, looking, and online.
Reactivating my OkCupid account seemed like a natural progression from participating in online eBay auctions and perusing Netflix. Why not meet romantic interests via an online forum, as well? Webinars aren't stigmatized, so why should online dating and hook-up sites be? Netflix arguably put Blockbuster stores out of business!
As millennials, what part of our lives is not arranged by the smartphone in our hand? According to the Pew study, 10% of adults ages 18-24 and 22% of adults ages 25-34 use online dating sites and apps. I'm surprised that only 38% of those "single and looking" folks are online, especially when according to this list, there are online dating sites for every subcategory, from moustache-lovers to competitive golfers!  
One by one, my roommates and I created online dating accounts. We sheepishly defended ourselves by saying "It's just for a little while," or "I'm just doing this as a joke, my friend dared me to." Some of my roommates quit after a month or so. Some still go on dates arranged online. But while we may be moving forward in widening society's access to technology, our dating norms seem to be just as narrow as ever. My female friends interested in men tell me it is still a man's responsibility to send the first message. My male friends tell me they are just as afraid as coming off as creepy online as they are at a bar. 
Our fears about dating haven't disappeared in this new virtual world. In making an online dating profile, we admit that we are looking for something, whether it be casual hook-ups or something more serious. Even online, expressing interest still makes you seem vulnerable— maybe more so, because the audience for your desires seems larger than ever before.
Maybe that's why we cling to meeting someone IRL. We openly depend on the internet to provide us with the goods and services that we need, but it's always hard to admit that you might need the company of another person.
But let's be real: If you met someone offline, you'd just stalk them on Facebook anyway.