New Rob Ford Video: Toronto Mayor Threatens Murder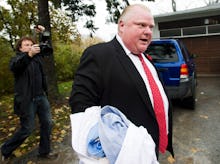 If revelations and subsequent confirmations of smoking crack cocaine will not cause beleaguered Toronto mayor Rob Ford to resign, then his newest video may prove to be his downfall. In the video obtained by the city's Star newspaper, Ford is shown to be highly intoxicated and making incoherent threats against an unknown party. The one-minute video can be found below:
In the video, Ford is in a fighting mood, signalling to his company that "When he's down, I'll rip his fucking throat out," helpfully adding "I'll poke his eyes out. I will, fuck, when he's dead, you help make sure that motherfucker's dead."
It is yet unknown who these threats were directed at, but given the speed at which it took for Ford to apologize for smoking crack cocaine, people will probably know pretty soon.
Attempts to suppress and minimize the effect of the initial video of Ford apparently smoking crack cocaine have crumbled with this latest scandal to hit Canadian politics. The mayor has held the office of first citizen of Canada's largest city since December 2010 and has been the subject of several high-profile incidents in his tenure at the position. Despite the calls for his immediate resignation from both his allies in government and opposition, Ford has up until now protested against what he feels has been a media-led attack on his reputation and has said he will run for re-election next year. Regardless of what the mayor thinks, it will ultimately be the people of his jurisdiction that will likely end any remote chance of that being successful.