What's the Best Online Dating Site? Depends On Your Politics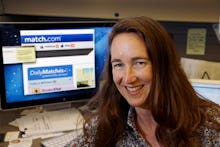 Surprise, surprise — a recent report from the Pew Research Center reveals that online dating is more socially acceptable now than ever before. According to a survey on Americans' use of the internet, one in 10 of us have used an online dating website or mobile app — a statistic that probably doesn't come as much of a shock to you, since it seems like everyone these days is dabbling on Tinder or Hinge in their spare time.
But how to become one of 66% of these online daters who have actually gone on a date, or part of the 23% who have met a long term partner or spouse through an online platform, you ask? The first step, of course, is to make sure you are using the right site for you — because, really, what is worse than mentioning on a first date that you volunteer at Planned Parenthood escorting women through abortion protesters only to learn that your Casanova worships at the altar of Todd Aken? 
Conservatives Only is the site for you if you want to stop wasting your time with undesirables (which here means liberals, Democrats, progressives, Communists and Marxists) and find someone who shares your passion for life, liberty, and love. Though the conservative site does not prohibit atheists or other lily-livered liberals from joining, searches for same-sex preferences or people of color will yield few results.
Veggie Date will help you connect with like-minded vegans, lacto vegetarians, ovo vegetarians, pescatarians, semi-vegetarians and macro-biotic eaters, if only just to exchange tempeh recipes. Better yet, you can bond over your shared appreciation for lentil-barley burgers and how your lifestyle helps save the environment from total annihilation at the hands of climate change deniers. 
In order to avoid an awkward conversation about the differences between creationism and evolution when you're just trying to determine whether it would be inappropriate to order a third cocktail, look no further than Christian Mingle, Catholic Mingle or Adventist Singles Connection. You might be surprised to learn that those websites are owned by Spark Networks, the same company that owns JDate, the Jewish dating service, where you can find a partner who shares your skepticism of Obama's ability to help resolve issues between Israel and Palestine.
Democrat Singles: the name says it all.  If you crushed hard on the president of the Young Dems club in high school and think that the GOP can be blamed for most of our country's problems (the government shutdown, the botched Obamacare rollout, anyone?) then this site will help you find the yin to your progressive yang.
Farmers Only is your site if you're looking for someone to bond with over how happy (and rich) federal crop insurance, a relic from the Depression, makes you. On the other hand, if you're a taxpayer who helped fund the $14 billion in crop insurance payouts and subsidies in 2012 and are feeling a little bitter, avoid this "earth folks only" site at all costs. 
And thankfully, if you'd rather just avoid the topic of politics altogether (even though the debt ceiling is a no-brainer aphrodisiac) there is always Tinder, where you can freely judge people based on their appearance rather than their beliefs.