Hate Sitting All Day? This Designer is Breeding the World's Perfect Chair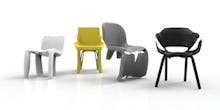 Does your chair have all the signs of good breeding? It supports your back, isn't an eyesore to look at, and has every foot on the ground? If not, you might be able to find something a little bit different with everything you could hope for. If this sounds like a normal sales pitch, it's not. The newest thing thing that digital technology is doing for us: It is breeding inanimate objects.
Jan Habraken, a designer in New York City, is working on this right now. The chair that he designed came from a gene pool that included "an archetypal flat back, a mesh Bertoia, a Tulip chair, a sleek Pantone, a Tolix and an Eames Hardshell," according to Wired, and it might look a little bit weird. But it is not the last word on chair breeding. This is only the beginning.
And no, this does not mean that you will have to go to a ranch or a pet store if you want to find the perfect chair in the future. But you might end up in a chair that is 40% bowfinger and 60% bubble — and digitally certified as such.
Before now, you'd be forgiven for thinking that genetic breeding had to be biological, but FormNation, Habraken's design company, just proved that this is not necessarily the case. The chair designs that are bred in his studio could probably be used to form other hybrids down the line. There is no saying how far this could go. Imagine if, after experiencing back troubles, you could actually get your chiropractor to prescribe a chair for the neighborhood designer to print off for you in the same way that your doctor prescribes diet pills. Already, there is a large market for chairs that claim to give people better posture. Tailoring the chair to the body is probably not far behind.
This will probably be good for people with backgrounds in the arts as well as the sciences. As his background and education suggest, Habraken straddles the line between design and engineering. His workplace is as much an art studio as an industrial shop.
Someday soon you might even be able to design your own office chair: Just log on to a chair manufacturer's website, type in the specifications you want, and let them print it for you. And this probably isn't just going to be for chairs. Clothing, tables, and even houses are all good candidates for 3D printing. Who knows? You might even be able to decide the precise percentage of bungalow or gable front you want it to have, though you might want an architect to look it over before you push the green print button.