NFL London Games Need Better Teams If the League Wants to Go Abroad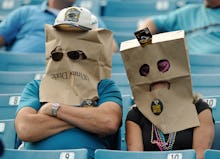 We often hear that vague ambition of "expanding the international brand" or "taking the league global" with NFL games in London. With the first one played back in 2007, we've even reached the point of discussing a London-based NFL franchise or, as The Guardian put it, "Sporadic chatter about the merits of a British franchise has swollen in energy and noise." In August, Grantland's Bill Barnwell even examined all the logistics behind such a relocation. But what type of brand ambassadorship can the NFL really lead when it sends the 0-7 Jacksonville Jaguars over to Wembley Stadium this coming Sunday?
The Jags are one of the teams that many, like Barnwell, could foresee making the transition to a London home. After all, their own fans never show up, and the stadium is often left empty in Jacksonville. But after Sunday, would anyone in any country even want them?
Let's put it this way — there are 32 teams in the NFL. Through seven games, the Jags are 32nd in total points scored, points per game, yards per game, and third-down percentage; they are 32nd in total points allowed and points allowed per game, too. They are 32nd in yards per carry, their quarterbacks have been sacked the most times, and they've given up the most touchdowns. Out of 49 quarterbacks who have taken snaps this season, the presumed starter for Sunday, Chad Henne, is 36th in passer rating and his backup, Blaine Gabbert, is 47th. 
Behold Gabbert:
Of the four best things going for the Jags in 2013, three of them have to do with their uniforms. Their two-toned black and gold helmets are really not that bad, they might be the only pro team rocking a color scheme that went obsolete in 1999, and their mascot has a teal tongue. The problem with jersey sales, of course, is whose name you choose to disgrace yourself and your family with.
Side note on throwbacks: You should obviously pick Fred Taylor or Mark Brunell (8) in a heartbeat.
The fourth thing is that they're in a (lack of) arms race with the Tampa Bay Bucaneers for the first pick of the 2014 draft. The "Tanking for Teddy" sweepstakes is on for the coveted Louisville Cardinals quarterback, and with Tampa's loss to Carolina on Thursday (0-7), the ball is in Jacksonville's court for Sunday (and we know they probably won't score it anyway).
If you tuned in for the first game in London this season — between the Pittsburgh Steelers and the Minnesota Vikings in week four — you, along with fans in attendance, were treated to a great game. Now, as it turns out, the Steelers are 2-4 and the Vikings are 1-5.
But the one-possession game came down to a final drive led by two-time Super Bowl champion Ben Roethlisberger, and rushing champion/MVP Adrian Peterson rushed for 140 yards and two scores. In fact, Peterson's 60-yard touchdown run up the seam made the entire game worth it from a marketing standpoint, close game or not. You can't go wrong with the marquee running back of the NFL torching the entire Pittsburgh secondary.
Even though his assessment of the quality of NFL-in-London games turned out to be slightly incorrect when the Vikings pulled out the 34-27 nailbaiting victory, Deadspin's Drew Magary hit the nail on the head when he said, "Whether deliberate or not, the NFL has subjected poor Londoners to some pretty horrific displays of football."
And since we either hate English NFL fans that much or because we want to ease their transition into taking the Jags off America's hands, we are sending the worst team to London for one game in each of the next three years as well. 
I really wonder if the fans will continue to pack Regent Street like this for those other three games after they watch the Jaguars in person on Sunday:
Either way, Jacksonville fans seem to have really benefitted from these relocated games: the NFL has, for a moment, moved their misery as far away as possible.