U.S. Student Homelessness Reaches All-Time High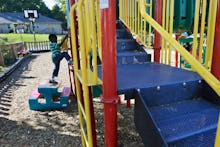 Here is a scary number: 1,168,354.
That's the number of students in grades K-12 who were homeless during the 2011-2012 school year. The new numbers released by the U.S. Department of Education's National Center for Homeless Education (NCHE) are a record-high, and represent a 72% increase from before the start of the recession six years ago. 
The Southern Education Foundation's recent October report found that throughout the American South and West, over half of students are low-income, and over two-thirds are in Mississippi, Louisiana, and New Mexico. 
While some children prepare for Halloween and map out the houses that give the best trick-or-treat candy, over 1 million children have no home to go to at all.
For obvious reasons, homelessness robs children of the tools needed to succeed in school such as a sheltered place to study. To combat this, the McKinney-Vento Act was passed in 1987 to aid homeless students. Relief has come in the form of new shoes and clothing, cell phones so children can always reach an adult, and in some cases the creation of study centers complete with books, supplies, tutors, and computers.
America must take a hard look at not only the best ways to reform our education system, but also at how we can ensure all children get to the classroom in the first place. For a country that was formerly the leader in public education, this is a worthy pursuit.