Dog News: Here's How the FDA is Saving Your Pet's Life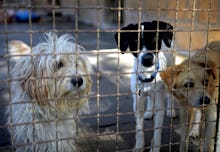 For the first time, the Food and Drug Administration will be going beyond their usually human-centric purview in an attempt to make pet food sold in the United States safer.
A rule proposed today seeks to protect pet food from disease-causing bacteria, harsh chemicals, and other contaminants, and will require manufacturers to develop specific procedures to prevent food-borne illness. For example, producers of canned dog food may now be required to prove that the food was cooked at the appropriate temperature for long enough. 
These facilities will also have to follow proposed guidelines for manufacturing practices to address sanitation issues, create plans to deal with any problems found by the FDA, and reevaluate their procedures every three years.
While the new rules are great news for animals who don't wish to be poisoned, they're also promising for humans. It's not uncommon for pet-owners to catch a disease from their pets, so safer food will mean better human health. This law also applies to food for livestock — animals we happen to consume. "You are what you eat" goes all the way up the chain, and the FDA is just completing the circle. 
Given the obvious risk to humans, it's a little shocking that the FDA hadn't already been doing this.  
The new rule comes after public outcry over several different incidents of contaminated pet food causing pet deaths across the United States. In a statement Tuesday, the FDA announced that tainted pet jerky had killed more than 600 pets and sickened more than 3,600 across the country.