You Won't Believe Everything Chad Pregracke Has Pulled Out Of the Mississippi River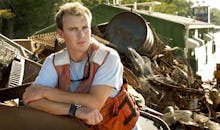 Chad Pregracke has made trash into community treasure. Through his nonprofit Living Lands & Waters, he's organized 12-person groups of volunteers to remove illegally dumped items from the Mississippi River and other waterways, including 218 washing machines, 19 tractors, 12 hot tubs, four pianos, and almost 1,000 refrigerators. Not only are these items unsightly when they wash up on the shore, but they contain oil, CFLs, and hazards to wildlife that contaminate an iconic waterway that supplies drinking water to 18 million people in more than 50 U.S. Cities.
Pregracke, who is in the running to receive $250,000 from CNN as one of their Heroes of the Year, got started on his work when he was in his early 20s. He grew up near East Moline, Illinois, where the Mississippi River was in his backyard, and while working as a commercial shell diver in his teens he began to notice all the debris that had gathered at the bottom. Working with a small grant from Alcoa in 1997, he single-handedly pulled around 45,000 pounds of trash out of the river and sorted it out on his parents' lawn to be recycled.
Today, his endeavors have gone from a Robinson Crusoe-esque one-man operation to one that has included more than 70,000 people holding 700 cleanups on 23 rivers. He has also launched a floating classroom barge, where his staff educates high school students and teachers about river pollution. His group has also planed 500,000 trees along river shorelines since 2007 – it's about halfway to its goal of 1 million.
Why is Pregracke going to all this trouble? Aren't there task forces hired by municipal authorities to remove large trash from rivers, just as picking up trash along highways is a typical community service activity and large oil companies are forced to clean up after themselves under the threat of public shaming?
Well, no. Many of the most harmful items found at the bottoms of rivers are the domestic waste of individuals without the time, money, cars, or know-how to transport their large, toxic appliances to landfills or recycling facilities. 
It's also easy for objects to wind up in rivers that are not the result of direct negligence or malfeasance: "Even 100 miles away, (trash) will find its way into a creek or a storm drain and into, ultimately, the Mississippi River," Pregracke told CNN.
However, getting people together in groups to think about the resources and land that they must share, but perhaps don't think about every day, makes a huge difference. As Pregracke says, "Change is slow, like a barge or train, (but) once it builds momentum, it's hard to stop."