8 Electronic Gifts For the Techie On Your Holiday Shopping List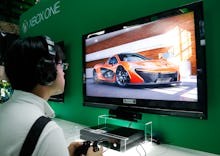 It's never too soon to start your holiday shopping list. Electronics have been a popular item in recent years, and 2013 is no exception. Whether you're shopping for an office mate, spouse, or teenager, there's a tech gadget out there that tops someone's wish list. Here's a look at the top electronic wish list items for the 2013 holiday season.
1. Xbox One and the PS4 For the Gamer
The 2013 holiday season is an exciting time for gamers. For the first time since 2007, next-generation consoles will hit store shelves, promising a new paradigm in HD gaming. Microsoft's Xbox One and Sony's Playstation 4 are sure to be top contenders for what's hot this holiday season.
During the Electronic Entertainment Expo, it was announced that Sony would allow sharing of game discs, a policy that spit in the face of Microsoft's drastic digital rights management-loaded policies. Sony also announced that its console would be $100 cheaper. After a slew of bad PR, Microsoft came out a few weeks later and changed its policy in the hopes of bouncing back. Despite the controversy, pre-order sales for both consoles have been very strong and analysts predict that each will sell close to 5-6 million units this holiday season.
2. Desktop Robot Vacuum For the Messy Geek
There are robot vacuums for floors, but what about dusty desks? Tech lovers aren't always the tidiest folks in the world, so give your loved one a tool that makes cleanup easier. The Desktop Robot Vacuum wipes away dust and crumbs from your desk. It also serves as a cool paperweight and desktop decoration with its quaint robot-like appearance.
3. ThinkPad Tablet For the Sophisticated Tech Lover
Lenovo's ThinkPad Tablet captures the essence of the tablet, with a full set of features and functions typically tied to their tech products. Whether you're buying for a busy executive keeping up with investments, hardcore gamer, or social media junkie, a ThinkPad Tablet is a gift they'll never leave home without.
With three versions to choose from – the ThinkPad Tablet, ThinkPad Tablet 2, and ThinkPad Helix – opt for the device that best suits your recipient's personality. The Helix, for instance, offers a built-in keyboard for those who type away with passion.
4. USB Air Purifier For the Eco-Friendly
Why not freshen up the air around a loved one's workstation with a USB air purifier? These handy gadgets improve air quality in the immediate area, plugging into any standard USB outlet. USB air purifiers are available in different styles and designs, including one that doubles as an alarm clock. Most cost under $50.
A USB air purifier makes a great gift for a co-worker with allergies or asthma, or turn it into a gag gift for a co-worker with body odor problerms. Be sure your gift recipient has a good sense of humor before pulling a prank, and think carefully before pulling this one on the boss.
5. Wearable Video Cam LX2 For the On-the-Go Parent
This wearable video camera captures up to 30 seconds of instant video, recording whatever's in your line of sight. Upload your favorite clips of kids at ball practice or the funniest thing you ever saw at an amusement park. Whatever the user's mojo, this gadget is super fun for the video lover. It's an ideal gift for busy parents and for your resident goofball family member.
6. Finger Mouse For the Fast and the Furious
This super-cheap gadget sells for about $20, serving as an awesome stocking stuffer for the tech gadget junkies on your gift list. Serving all the functions of both a wired and wireless mouse, the Finger Mouse eliminates the tedious task of reaching to the right of the keyboard to scroll up or down the page or click a link.
Because the traditional computer mouse sometimes creates pain for all-day computer users, this is a great gift idea for someone with carpal tunnel syndrome. It's also a perfect office-exchange present, gift for a boss or co-worker, or anyone on your list who likes to stand out from the crowd at the office.
7. Universal Solar Charger For the Busy Mom or Traveler
If there's a gadget-lover in your life, you likely know someone who carries multiple devices everywhere they go. But nothing's more frustrating than being out and about when a device runs out of battery life. A perfect gift for a busy mom on the go, a universal solar charger is compatible with many devices.
This way she can charge her mobile phone, tablet, laptop, MP3 player or whatever else loses its juice midway through the day. This is also an ideal gift for any frequent traveler, as it's often difficult to find a way to charge these devices during layovers and long car rides.
8. Cellulon Magic Cube Laser Keyboard For the Frustrated Mobile Typist
While some smartphones and tablets offer built-in, pull-out, or full-size QWERTY keyboards, few things are as convenient as a full-sized keyboard separate from the device itself for writing out long blocks of text. The Cellulon Magic Cube Laser Keyboard projects a full, digital QWERTY keyboard onto any flat surface and connects to different devices using Bluetooth technology. Any smart phone or tablet user who does a lot of typing on the go or in meetings will love this compact gadget.
Tech gadgets are so versatile these days that gift givers can find items for practically everyone on their lists. From gag gifts to stocking stuffers and major problem-solvers, today's tech gadgets offer something for everyone.