Saudi Arabia Driving Ban: I Can't Believe People Still Have to Protest This Crap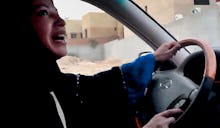 On Saturday, thousands of Saudi Arabian women will stage the largest organized protest yet in support of allowing women to drive. With national sentiment behind them and possible arrest in front, these women will climb into the drivers' seats of their cars and launch a salvo upon the nation's crushing patriarchy.
While Saudi law doesn't specifically prohibit female drivers, the nation's Interior Ministry issues licenses exclusively to men, resulting in a de facto prohibition that many feel must change. In addition, religious figures have intoned hearty support for the ban, claiming everything from mass immodesty to driving-induced ovary damage.
Increasing support from the public, including 16,600 signatures on a petition supporting this weekend's protest, indicates that the kingdom may be nearing a readiness to reconsider the driving ban. Saudi women have won other small victories recently, most notably the appointment of 30 women to the nation's 150-member senior advisory council, the Shura. Sure enough, these women have advised King Abdullah to rescind the ban.
Saturday's protest will not be the first demonstration of its kind. During the first Gulf War, Saudi women watched with bafflement (and not a little bit of revulsion) as their American peers drove freely on military bases and gave orders to male subordinates. Following the culture shock, 47 Saudi women staged a protest by driving through Riyadh in a convoy, stopping only upon orders from the police. The protesters and their families suffered for their activism: They were fired from government jobs, barred from international travel for a year, and "denounced as immoral women."
This is the threat held over the heads of not just female activists, but all of Saudi society, should they grow permissive enough to grant women the freedom of transportation. Allowing female drivers would result in catastrophic "gender mixing" and topple the society, according to a fatwa, or religious injunction, issued by Saudi Arabia's Grand Mufti.
Authorities have already begun to combat Saturday's protest by intimidating the activists. Maj. Gen. Mansour Al-Turki warned the public, "All violations will be dealt with — whether demonstrations or women driving." In addition, many of the event's organizers have received threatening phone calls. "He said he was calling on behalf of (Interior Minister) Prince Mohammed bin Nayef and that I and any other woman should not drive and if we are caught we will be punished," reported one. Given the severe consequences suffered by the women and their families in 1990, there's no reason to think today's protesters will be spared a similar reprisal.
Despite officials maintaining a hard line on this weekend's demonstration, the Saudi government has recently softened its posture on the larger issue. "Officials have in the past said the driving ban is in place because Saudi society wants it there," reports Reuters. This puts the government in a strange position if, as expected, their society is able to demonstrate that it does, in fact, want to lift the restriction.
There's no way but to find out. If Saudi society lives through the weekend — and there is a chance that it might — the only thing toppled in the aftermath will be the ridiculous excuse with which Saudi authorities continue to justify naked oppression.