Kendrick Lamar and Drake Aren't Really Feuding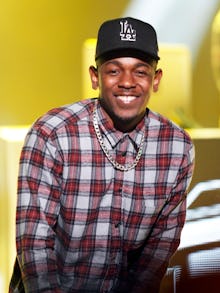 Nearly 20 years ago, the state of hip hop and what constituted a feud was extremely different. There was a real east coast-west coast rivalry, there were controversies because of actual shootings, and there were eventual murders related to combative record labels. 
We are so far from real 'feuds' in 2013 that the hardest confrontation in years just resulted from one rapper telling his competition to step up their game. The current state of hip hop is so friendly that Kendrick's "Control" verse actually implored, if not encouraged, other rappers to improve more than it took explicit shots at them. "Hip Hop done got a little bit too soft. You know what I'm saying?" Diddy explained to HipHopDX this week. 
And Drake's 2013 "beef" with his "Poetic Justice" buddy was so benign that he vehemently said, "I didn't really have anything to say about it ... It just sounded like an ambitious thought to me. That's all it was."
There are those who presume the real venom came in Kendrick's BET Cypher. But where exactly? When he called Drake a "sensitive rapper," said "Ha, ha, joke's on you," and high-fived Shoolboy Q, who was too stoned to know why he was suddenly involved?
At the end of the third quarter in Game Two of the 2013 Eastern Conference Finals, you might remember when Paul George blew by LeBron James and posterized Chris "Birdman" Andersen — a coming-out moment for a budding star. LeBron, the most successful and undisputed king, promptly brought the ball upcourt and drilled a 30-foot buzzer-beater, walking after George. Instead of sizing each other up or jawing, the two low-fived and sort of congratulated each other. No, I won't tell my grandkids about that memorable display of sportsmanship either.
This is exactly how I feel about the proposed "feud" between Drake and Kendrick Lamar. Not that there is anything wrong with it, but hip hop is extremely friendly right now. There is more credibility in who's allied with whom than who your enemies are in 2013. And just as I wouldn't think to compare Magic and Bird with George and James, I wouldn't choose to hold up Kendrick and Drake to Tupac and Biggie.
I don't just disagree with the claims that Kendrick and Drake's "feud" will define hip hop for years to come and that they have just brought life back to the genre. I would say that hip hop is neither dead nor alive, but just different, and that it is — and will continue to be — more defined by the absence of any real rivalry.
The fact that Phil Jackson sat down for an interview to discuss his "Kendrick Lamar Twitter response" sums up how much the transparency of this "controversy" has all but diminished its meaning and authenticity.
On Friday, TDE (Kendrick's label) president Punch further added to the trivializing clarification when he told HipHopDX of the inspiration for the "Control" verse:
[M]e and Kendrick had a conversation. I was just talking about how everything is so friendly right now. Everybody's hugging and friends and on each other's records. Like, where is the competition? I told him, 'Watch. The first dude to do something to change it, that's going to shift the game back because everything is one way.'
In 1996, Tupac released "Hit 'Em Up." The record personally called out and threatened to kill every important figure in Junior M.A.F.I.A. and Bad Boy. Pac, who had been seen with Biggie's wife, Faith Evans, after they split, said "That's why I fucked your bitch you fat motherfucker."
And, referencing Biggie's 1995 "Who Shot Ya," which was thought to take credit for the 1994 Manhattan shooting that almost killed Tupac, he says, "Who shot me, but your punks didn't finish / Now you about to feel the wrath of a menace." 
In other words, Kendrick and Drake's 2013 "rivalry" is so comparatively innocuous, it's comical. 
When XXL Magazine asked Kendrick on Wednesday what he meant with "I wanna murder you niggas," he explained: 
"We're talking about lyrics, we talking about rhyming. And when you say the word "murder," I've been feeling that way since I was 16 — I wanted to be the best at it. If I was mopping floors, I want to be the best at it. If I'm cleaning pools, I want to do the best at it. Fortunately, I'm doing rap music and I want to be the best at it. Period."
The cultural and musical impact of Kendrick's good kid mA.A.d city, which dropped over a year ago, is good for hip hop. But we don't need to create controversy and project significance onto a genre that, as of 2013, is simply in a competitive but ultimately friendly state.
Be happy that good kid mA.A.d city displayed the type of patience with the craft of writing, adherence to storytelling, and voice of the neighborhood that brought up a lot of Illmatic memories. Be content that Drake's Nothing Was the Same is a great hip hop album, regardless of whether you think he's softer than frozen yogurt or just lyrically on point right now.
But let's cool it on the talk of genre-defining moments. As far as I can tell, there has been no mass exodus to hit the studio and improve lyricism, and hip hop does not seem to be heading for some watershed moment of renewed energy.
For every under-the-radar or underground lyrical wizard like Joey Badass, there will continue to be the overflow of Trinidad James and French Montana on the radio anyway.