This Saudi Comedian Sings a Rendition Of Bob Marley You've Definitely Never Heard Before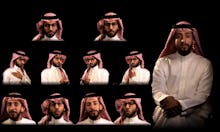 As activists prepare to get behind the wheel today to defy Saudi Arabia's ridiculous driving ban on women, Saudi comedian Hisham Fageeh has a very special message for them.
Fageeh teamed up with media collective Telfaz11, for this rendition of "No Woman, No Drive," a satirical play off of Bob Marley's classic "No Woman, No Cry." In the clip, the comedian tunefully explains why women shouldn't drive in Saudi Arabia. Saudi authorities might want to take note: a capella, rather than bogus scientific claims from clerics, might be a better route for keeping this really pointless, sexist ban in place.
Watch on for one talented show of solidarity.
Nothing warms my heart like men supportive to a feminist cause.
The activists behind the October 26 campaign have called on women to film themselves, and campaigner Aziza Youssef told Sky News that she has received 13 videos, and 50 phone messages from women claiming or showing that they have driven in protest today.
If you've also been convinced to step away from the wheel after watching this video, let me know on Facebook and Twitter.
Special thanks to Ghazala Irshad, from Peeta Planet, for sharing this link.