Why Millennials Care As Much About a Show's Creator As Its Characters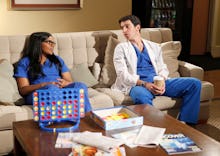 Imagine you're scrolling through Instagram and come across Mindy Kaling's photo of her outfit — pants with trees on them and lots of neon green. She captions the photo "outfit was pretty divisive today, but I … went for it." You remember episodes of The Mindy Project and Dr. Mindy Lahiri's eclectic, sometimes classy but — more often — glittery outfits, which tend to get varying feedback. Is her character's penchant for outrageous outfits simply Mindy Kaling's personality on television? When do we separate character from actor? Kaling and others, such as Tina Fey, star in shows that are based on their own realities, giving us more semi-autobiographical storylines than ever. Social media also offers large amounts of public information about the people we see on television. What does this trend mean for millennials? As social media gives us increasing access to celebrities, semi-autobiographical sitcoms reveal what millennials really want: stories, grounded in truth, that are both relatable and representative of lives they know are possible within their sense of reality.
Semi-autobiographical shows are not a new phenomenon — one needs only to look to I Love Lucy, which starred Desi Arnaz and Lucille Ball as fictitious versions of themselves. The Dick Van Dyke Show was also based on its creator's personal life experiences. But this genre is certainly becoming more prevalent in our moment. Adding to several of these shows on air now, celebrities such as Sofia Vergara, Tyra Banks, and Adam Levine have their own semi-autobiographical shows in the works.
What has changed, also, is how we experience these types of shows as millennials influenced by today's social media milieu. Twitter and Instagram, among other media, easily blur the line between character and actor. Viewers of semi-autobiographical sitcoms have much more information at their disposal than other generations. We have more than biographies, which offer distanced interpretation of a life, and interviews, which feature a closer look at celebrities but still tend to provide measured, filtered responses.
Instead, now, Twitter and Instagram provide us with immediate details of a celebrity's life through relatively unfiltered thoughts. From this information, we can readily identify consistencies between a character's personal life and the representation of that life on their show. Because of this, what we consume on social media, as well as other autobiographical information outlets, begins to mirror what we consume on television. Millennials add an interesting element to this mix — their own life concerns are often played out on screen in these semi-autobiographical shows, a contributing factor in their choices to watch them.
For example, Tina Fey's 30 Rock starred Fey as the quirky, bumbling Liz Lemon, creator of and writer for The Girlie Show with Tracy Jordan. In her book, Bossypants, Fey writes with self-deprecating humor that stems from her admission to being "very nerdy" and "not a popular girl in the traditional sense." This is the type of immediate, autobiographical information that informs our readings of Fey's character — who is obviously bizarre, but also successful — as based on her personal experiences. Thus, viewers — especially millennials seeking to achieve their goals while fumbling through new adulthood — not only relate to Liz's quirks but believe that her life is possible, because it has already been manifested in Tina Fey herself.
In this sense, semi-autobiographical shows provide millennials with a lens through which to analyze and experience their own lives, as well as entertainment. The popularity of these shows reveals an interest in substance and truth. Given much entertainment that touts little more than a quick laugh, we are drawn more to stories we know are (if only vaguely) true. Clearly, millennials want to see themselves in what they consume as entertainment — they are often thinking deeply about their particular moment and how it shapes their lives. Furthermore, we become deeply invested in those stories we know are consistent with what we see happening in reality. We want not only stories that we can relate to, but stories that we know can actually happen.