5 Singer-Songwriters You Never Knew Were This Talented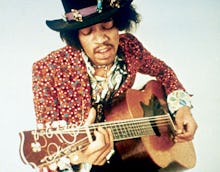 While every magazine and blog's coveted title of "Best Guitarist" is eternally up for (often lively and heated) debate, the nominees are almost always championed for their abilities on the electric guitar exclusively. While the distorted sounds of the amplified guitar can be energizing — dare I say electrifying? — it should really be one's abilities on the acoustic guitar that decide their talent. Think about it: playing on the acoustic guitar offers none of the safety nets that distortion pedals and heavy reverb provide. Its volume doesn't dominate a room and demand the listeners' attention, but, instead, the player must work to get the attention of an audience. Here are five working musicians who also happen to be top-tier acoustic guitar players.
1. Ben Harper
The eclectic, but always cool, Ben Harper has bounced around in style quite a bit throughout his nearly two-decade long career. From the crunchily distorted rock of his Relentless7 band, to the reggae-tinged Americana of The Innocent Criminals, to his project with The Blind Boys of Alabama, Harper seems never to be fully satisfied with sticking in one place. What acts as the backbone to his musical adventuring, though, is his top-notch guitar playing. This is perhaps best showcased on the live album, Live From Mars. The second disc is entirely Harper and his guitar; each song is a shining gem of acoustic emotionalism and an impressive display of guitar playing. Harper moves from classical, baroque–esque playing on "Power of the Gospel" to folky finger-picking on "Number Three" effortlessly, with an obvious confidence that denotes a serious commitment to the instrument and the subtle art of its playing.
2. John McCauley
The alt-country, indie rock sounds of McCauley's band Deer Tick consistently pack venues all across the county because they draw every flannel-wearing barista and bearded graphic designer around. McCauley's musical influences are varied, but overwhelmingly American. Kurt Cobain, The Band, Sam Cooke, and Tom Petty rank highly among them. Though he usually leaves it to fellow guitar player, Ian Oneil, to cover lead work, McCauley is known every once in awhile to shred a damn fine guitar solo. However, his softer side reveals itself in his intricate acoustic playing, such as in this performance of "Spend the Night."  
3. John Butler
The Australian equivalent of Jack Johnson combined with Dave Matthews and Ben Harper is, without a doubt, one hell of a guitar player. Known widely for his bubbly melodies and cheerful lyricism, the leader of the John Butler Trio is also more than capable on that old wooden box with strings. In the song "Ocean," Butler's fingers dance nimbly across that 12-string guitar neck, drawing out melodies rich in texture and rhythmic variety.
4. Brett Dennen
A champion of feel-good indie pop and an effortless combiner of jazz, afro-pop, and folk sensibilities, Brett Dennen crafts a sound as beautifully spacious as it is soulful. But don't let his youthful appearance fool you: Dennen's prowess on the acoustic guitar represents years of careful training. Dennen's guitar style sounds like someone who, after years of learning John Denver and Cat Stevens songs, suddenly discovered the deviously complicated Soukous guitar style of West Africa. Indeed, Dennen's playing comes off as part Bob Dylan and part Oliver Mtukudzi.
5. St. Vincent
Annie Erin Clark, the woman behind St. Vincent, is a ray of hope for the avante-garde-leaning independent musician. Clark, a former student of Berklee College of Music, began learning the guitar at age 12 and spent some time touring with her uncle's jazz duo, Tuck & Patti, in her teens. Her jazzy background comes through in her extraordinary guitar playing, but is mixed beautifully with colors of African style and abrasive rock fuzz. While her recent collaborative project with David Byrne, Love This Giant, demonstrates her ultra-detailed-oriented composing talent, this clip of her playing "The Stranger" offers a taste of her bare-boned, effects-less guitar deftness.