Virginia Gay Marriage Ban Will Be Struck Down, If Millennials Have Their Way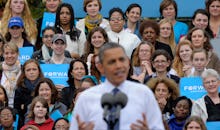 The same Virginians who voted 57% in favor of ratifying a constitutional amendment defining marriage as "between one man and one woman" in 2006 now believe it should be legal for gay couples to get married. According to Virginia's statewide election survey results released earlier this month, 56% of likely voters oppose the state's ban on same-sex marriage. 
With Proposition 8 lawyers Theodore B. Olson and David Boies on the case to challenge Virginia's ban on same-sex marriage, the legal battle is sure to be an interesting one. But what has changed in the last seven years to cause majority opinion to switch sides so dramatically?
Perhaps it has something to do with public opinion about those who want to keep the law as is. Republican Ken Cuccinelli, sitting attorney general and Virginia governor hopeful not only opposes marriage equality, but he has been fighting a losing battle to reinstate Virginia's anti-sodomy or, "Crimes Against Nature" law. Robin Marty at Rolling Stone claims, "Cucinelli's extreme stance on social issues makes him unelectable." 
Social issues are becoming a deep concern for the changing demographics of Virginia voters. The Center for American Progress Action Fund saw a shift in Virginia, specifically Northern Virginia, shortly after the 2008 presidential election. These suburbs of the Washington, D.C. metro area have grown by 16% since 2000, thanks to an influx of minorities and white college graduates. The report by Ruy Teixeira found that the area "casts a third of Virginia's ballots, and it is also the area where Democrats have made their greatest gains." The New York Times saw the same trend in August of this year when they reported a "rapid growth among college-educated suburban moderates [in Virginia] who have proven receptive to Democratic stances on social issues." As younger voters move into the state, they bring with them their more socially liberal mindsets. 
For those fighting to lift the ban in Virginia, no narrative speaks to the issue of marriage equality more than the one Boies drew between the Supreme Court's decision in Loving v. Virginia in 1967 (which declared that "laws restricting interracial marriage violated both the Due Process Clause and the Equal Protection Clause of the Fourteenth Amendment and reversed previous court rulings") and Virginia's present struggle for another kind of equality. "Virginia gave us the first marriage equality case – and the one that most clearly established that the right to marry the person you love is a fundamental right of all Americans. It's fitting, then, that Virginia be the battleground for another great test of that principle," said Boies.
If the majority of Virginians get their way, we will see not only an end to the states ban on same-sex marriage, but also a greater step toward national marriage equality.