Staff Photos Prove How Many Progressive Organizations are Surprisingly White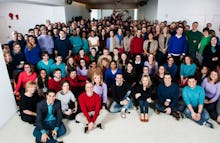 The staff of the Huffington Post.
As a progressive activist, I am involved with various organizations that promote social change and diversity. But despite their proclaimed values — diversity usually chief among them — when I attend meetings and events, I feel so: black.
This is the point, for me, where discouragement and disenchantment take over. I squirm in my seat, feeling very vulnerable, insecure, and out of place.
I question both myself and the organization:
"Was I only accepted into this space to fulfill a quota and to foster a false sense of diversity?"
"What is so difficult about these organizations practicing what they preach about inclusion , anyway?"
"Should I stick around to make this organization more diverse, or will my words and efforts fall upon deaf, white, male ears?"
A new Tumblr puts a spotlight on this issue, showing in no uncertain terms that "diversity" is more talk than walk at a lot of organizations. "2Pale2Male" urges readers to submit photos of their liberal organizations, examine them, and conclude if their organization is as diverse as it should be.
Purportedly liberal organizations like the Institute for Policy Studies, Think Progress LGBT, and Friends of the Urban Rainforest have all come under scrutiny. Check out this photo of Upworthy's staff, for example: 
The National Organization of Women (NOW) is not doing too well in the diversity department, either. Here is a photo of NOW's current officers:
2Pale2Male also showcases photos of diverse organizations, such as a staff photo from Applied Research Center:
Our generation has proven to be the most educated, racially diverse, and liberal in American history. Our efforts allowed America's first African American president to be elected.
What is stopping us from creating our organizations around these values?
I'd bet ignorance, combined with not acknowledging male and white privilege. Ignoring diversity and inclusion fosters a sense of being "unwanted" among people of color and women, which ultimately deters an organization's missions and goals. It also deprives the organization of an invaluable array of skills and personalities.
It is imperative that progressive organizations educate their members on privilege acknowledgment and inclusion. Otherwise, even the most progressive organizations among us will be guilty of the same white, male supremacy as previous generations.