Antonio Cromartie's Wife Terricka Cason Calls Out Jets On Twitter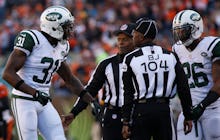 The wife of the New York Jets No. 1 cornerback and eight-year man, Antonio Cromarte, describes herself on Twitter as, "E! CandY Girl, Actress, Model, Dancer, Host." If Twitter could speak, her tweets would be shrill and strident. But give Terricka Cason credit — she told it like it was on Sunday while the Jets were being mauled by the Cincinnati Bengals:
Quarterback Andy Dalton had been thrashing her husband's secondary for 325 yards and five touchdowns, including four to Marvin Jones en route to a 49-9 blowout.
This is Pop Warner, by the way:
It's hard to blame Lady Cro for complaining, especially since Gisele Bundchen famously opened Pandora's Box on that one after Super Bowl XLVI, saying of Tom Brady and the Patriots, "My husband cannot fucking throw the ball and catch the ball at the same time."
Cason backed it up anyway, shedding some light on her football pedigree:
Rooting for the New York Jets must be particularly frustrating in 2013, even sitting at a respectable 4-4 at the midway point. Gang Green have followed each of their four wins with a loss, and twice now it has come in devastating fashion.
But Cromartie's wife has to understand at some point that she's going to take some heat from other fans on some of her nasty tweets during a game. My only question is if she knows she isn't excluded from the class known as "sports fans":