Chris Christie Gets the Endorsement He's Been Waiting For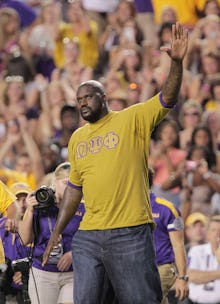 Shaquille O'Neal – four-time world champion, all-pro NBA center, and TV personality – just endorsed New Jersey Governor Chris Christie in a huge way. Shaq stars in a new 30-second TV ad reading a list of Christie's accomplishments ahead of the Nov. 5 re-election.
O'Neal, who is a Newark, N.J. native, begins the ad by saying, "I don't endorse many politicians." He then throws in the byline used in almost every campaign: "But Chris Christie is different." Shaq says New Jersey voters should re-elect the governor because he is bringing back jobs, has improved the state's education system, and is "a good man, excuse me – a great man!"
Christie has announced that Shaq is going to be his statewide youth ambassador to New Jersey's inner city neighborhoods.
Christie's campaign is making a push to get New Jersey's African-American and Hispanic voters to support the governor. The Republican National Committee (RNC) has spent more than $500,000 to pull both groups, who usually vote Democrat, to the polls. They plan to pour in an additional $1 million before the election. The RNC has sent Izzy Santa, director of Hispanic Communications, to New Jersey to work with Christie's campaign in the final days preceding the election.
While Shaq's late endorsement will not decide the election, it is powerful enough to pull more voters to the polls in Christie's favor.