Kolten Wong Pickoff Just the Latest Weird Thing From the 2013 World Series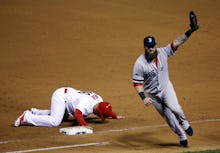 A collective yawn and groan was let out around the country when we learned the 2013 World Series would feature the Boston Red Sox and the St. Louis Cardinals. I had even started my annual rant of "fans" emerging from the woodwork upon their team's entrance to the Fall Classic (see: 2012 San Francisco Giants; anyone posting their first MLB updates in October, like "We did it!" on Facebook); but the last two games have honestly been a wild ride, and we should be in for a great Game 5 on Monday. 
Hopefully a good portion of sports fans were able to witness the ending to either or both of Game 3 or Game 4 this weekend, though you can't blame them for catching up after the fact — Game 3 competed with several prime-time college football markets on Saturday night and Game 4 coincided with Sunday Night Football. 
But with the series tied 1-1 on Saturday, the first game hosted in St. Louis came down to a tie game in the bottom of the ninth, runners on second and third, one out, and the infield drawn in.
Jon Jay grounded one toward the middle, Dustin Pedroia stabbed it, jumped to his feet, and threw out Yadier Molina coming home. Catcher Jarrod Saltalamacchia then threw wide of third, trying to catch Allen Craig advancing from second base. The ball trickled into foul territory and Craig, attempting to score the game-winner, tripped over third baseman Will Middlebrooks who had been sprawled on the ground.
Craig was awarded home via "obstruction," the first time in Major League Baseball history a World Series game had ended in such a fashion. It was just the fourth World Series game to end on an error of any sort.
On Sunday night, the Red Sox were hanging on to a 4-2 lead, now down 2-1 in the series. The Cards' Allen Craig had singled as the pinch-hitter, and the speedster Kolten Wong came out to pinch run. Carlos Beltran eventually came to the dish as the tying run with two outs in the ninth. Then Boston closer Koji Uehara caught Wong jumping toward second and picked him off first.
The 23-year-old became the first player in MLB History to be picked off to end a postseason game. By the way, getting picked off to end a regular-season minor league game (or high school game) is incredibly embarrassing.
Needless to say, we are set up for a great Game 5 on Monday night. Jon Lester versus Adam Wainwright, the series knotted at two games apiece, and the final matchup in St. Louis before we determine whether the Sox will celebrate in front of the Fenway faithful or allow the Cards to clinch. And according to the Elias Sports Bureau (h/t ESPN), the team who has won Game 5 in a best-of-seven World Series tied 2-2 has gone on to win 26 of 40 series. 
Jon Lester, who starts Monday, led the Sox to victory in Game 1 at Fenway in an 8-1 blowout, going 7 2/3 innings with no runs, and he is 3-1 this postseason with a 1.67 ERA. He is matched up against Adam Wainwright again, who got knocked around a bit in that same outing, surrendering three runs in five innings of work. He is 2-2 with a 2.25 ERA this postseason, but he was a 19-game winner in 2013 and he is pitching at home.
You're not crazy for refusing to sit through four hours and watch every pitch. But you should try to tune in for some of this game, especially the final third of it.
Expect some late-game drama after a low-scoring start, as this fifth and possibly deciding game (see stat above) could very well come down to the bullpen, base-running, and more blunders in the late hours of the night. And remember, it's always better to catch the end of the game instead of flipping over to 45 minutes of post-game interviews and John Kruk flustered "analysis" on SportsCenter.
But definitely don't miss him getting bombed like this, regardless.