Four Men Escape from 'Escape-Proof' Jail in Oklahoma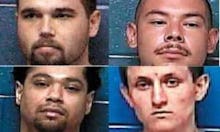 In a cleverly-executed breakout, Dylan Ray Three Irons, 21, Prime Tounwin Brown, 23, Anthony James Mendonca, 24, and Triston Cheadle, 33, escaped from an "escape-proof" Caddo County Jail in Anadarko, Okla. early on Sunday morning. Two of the four men have since been captured.
The four inmates were at the county jail facility for several days waiting to be transferred to a state prison. Since the men had no prior connection and were in for a hodgepodge of drug, burglary and gun charges, it is presumed that they met there and made plans to break out.
The escape began in the jail shower, where the four managed to unscrew a vent in the ceiling and climb through. From there, they accessed a five-by-three-foot plumbing crawlspace and managed to knock holes in the floor until they reached the ground level, where they found a maintenance door unlocked. There was no fence for them to scale.
Several witnesses living near the jail saw the four men in jumpsuits and did call police to report them, but speculated that they could just be Halloween costumes. After the call, the jail conducted a headcount and found the four inmates missing. In the morning, the inmates' jumpsuits were found, but the inmates were long gone.
It's been an active month for prison breaks. On Oct. 19, two men facing life sentences for murder managed to get out of a Florida prison by forging a letter from a judge calling for their release. Those men also remain at-large.