Somalia Drone Strike: At Least Two Alleged Al-Shabab Members Killed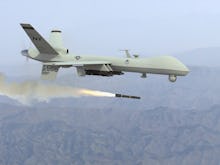 A drone strike killed at least two men in Somalia today. The men were traveling by car when their vehicle was struck by what witnesses describe as a missile from the sky. 
The attack took place on the outskirts of Jilib, a town 120 kilometers north of the port of Kismayu. Hassan Nur, a local resident, said he saw a drone flying in the sky after the bomb struck. He said, "I witnessed a Suzuki car burning, many al Shabab men came to the scene. I could see them carry the remains of two corpses. It was a heavy missile that the drone dropped. Many cars were driving ahead of me but the drone targeted this Suzuki."
It's likely that the attack targeted a senior leader of the terrorist group al Shabab, which operates extensively from Somalia and controls a large area of land where the strike occurred. Al Shabab is the Islamist group responsible for the Westgate Mall attack last month in Kenya that killed 72 and wounded 200. A combined force of Kenyan troops, Ethiopian and African Union forces, and U.S. drones drove the group from its previous strongholds in Mogadishu in 2011. 
Weeks after the Westgate attack, a Navy SEAL team targeted "a known al Shabab terrorist" in a coastal Somali town, but slipped back into the ocean to avoid civilian casualties. Though the Pentagon declined to identify the target, many speculated it was Ahmed Godane, the al Shabaab mastermind behind the Westgate shooting.
Al Shabab representatives and U.S. officials have not commented on the drone strike at this point.