This Baby Dressed As Andy Reid is the Best Halloween Costume So Far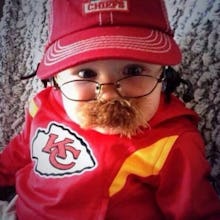 If you've grown extremely tired of looking at grown men dressed like children for Halloween, fret no more. This Olathe, Kansas baby, whose name is Graham, just stole the show by dressing as a grown man.
But, don't worry, his parents B.J. and Jodi Leeper aren't total creeps who simply like plastering a mustache on their baby boy. They are Kansas City Chiefs fans, who like many Arrowhead Stadium faithfuls, have grown very fond of new head coach Andy Reid.
Jodi told CBS Sports, "We live in Olathe, Kan. and are big Chiefs fans. It was my husband's idea to dress him up as Andy Reid for our neighborhood Halloween party. I just wish we could get a photo with him and Coach Reid together. That would be hilarious!"
Don't worry Jodi, I got this:
I would recommend using this for Christmas cards, thank you notes and maybe even place mats for the dinner table. I don't know, get creative.
I'm not the type of person to go any further (or cuter) than calling this downright hilarious, so I'll let this quote from Will Brinson of CBS Sports do the talking (and please feel free to leave any "adorbs" talk in the comments below): "And it's absolutely the most adorbs thing I've ever seen in my entire life."
All right, two references to the word is plenty here.
Two final things to note: first, the Chiefs (THE CHIEFS!) are the only remaining undefeated team at 8-0. Second, and most significantly, Andy Reid might have finally turned the page on this prior side-by-side comparison:
Sorry, one more:
I swear, last one: