Obama Twitter Hacked By Syrian Electronic Army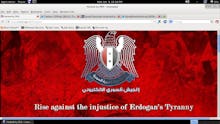 Update, 2:14 p.m. EST: It's unclear which part of the president's Twitter account has been compromised. According to Gizmodo and various Twitter responses, the URL shortener attached to the account may have been the only element which was compromised and the links appear to have been removed or fixed.
Has Barack Obama's Twitter feed fallen to the Syrian Electronic Army?
It certainly appears so, judging from a series of obviously falsified tweets posted to his official account which link to a video decrying the abuses of insurgents and Islamic rebels fighting against Bashar al-Assad's dictatorial Ba'athist government during the Syrian civil war. Numerous links were posted to the president's Twitter feed, all with URLs linking to Syrian pro-government propagranda:
The offending video can be seen below, and documents numerous atrocities pro-government sources allege were conducted by Islamist rebels (warning: footage is graphic):
Syria Truth is a well-established and well-designed online news feed with a heavy presence on Twitter and Facebook which appears to be a front for pro-government propaganda:
The Syrian Electronic Army is a group of pro-Assad hackers who are believed to operate with the tacit support of the Assad regime. They have attacked numerous Western websites in the past, most infamously the New York Times, the Huffington Post, the U.S. Marine Corps web site, and apparently, Obama's campaign website on Sunday.
While the Obama administration's focus on Syria has waned in recent months with an ongoing deal with the Russian government to disarm Assad's chemical weapons stockpile and domestic distractions such as the government shutdown and the debt ceiling, the Syrian Electronic Army might have just inadvertently put Assad and his human rights abuses back in the spotlight.