Meet Betty Who, the 22-Year-Old Poised to Be Pop's Next Big Star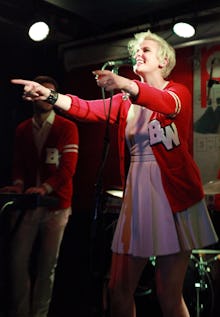 Betty Who has only released four songs, but she's about to be famous. The Berklee-educated, Australian-born singer-songwriter released a short EP called The Movement last April. It's a glistening pop record that recalls the sounds of 80s pop stars like Whitney Houston, and the themes of unrequited love from every decade and songwriter of all time. The album was met with decent press and some interest within the industry, and the then 21-year-old Australian was justifiably content with its positive reception. On the strength of the album and her shows, she was in talks with RCA Records about a full-fledged record contract.
Then, a man proposed to his husband through a flashmob dance routine in Home Depot set to her lead single, "Somebody Loves You" — an irrepressibly optimistic pop number — and posted a video of the event to Youtube. The video went viral, Betty Who got unprecedented press, and, days later, she signed with RCA. With her first full-length album only months away from a major label release, Betty Who is on the brink of stardom.
PolicyMic caught up with the singer shortly after her 22nd birthday to figure out how she writes, where she's going, and what kind of celebrity meltdown we can expect from her once she becomes a full-fledged star.
Ben Naddaff-Hafrey (BNH): What're you up to in LA?
Betty Who (BW): Making new music, actually. I'm working on a full-length right now with my producer so he and I have been getting up early, stopping by the café to pick up breakfast, and then heading back to his house and locking ourselves in and working. It's actually kind of perfect for today because it's the first time I have ever seen it rain in California.
BNH: This is your first LP then?
BW: It's my first. It will have the songs from The Movement on it and then I had worked on a second EP before signing with RCA, so the four songs from that EP will also be on the full-length, and then a couple extra that I'm working on currently with [my producer] Peter [Thomas].
BNH: You just turned 22 (happy birthday). For how many of those years have you wanted to be a pop star?
BW: Definitely about 16 of them. I remember being about five or six and wanting to do this. There were a lot of moments in my life when I thought I would do something else because, you know — that's kind of how it happens — but everything was just kind of a means to an end to get where I am right now.
BNH: What was the moment when you realized that this was definitely what you wanted to do?
BW: I think when I went to a summer program for singing and songwriting when I was 17. That was the first time I'd ever been anywhere where I was a vocalist. I'd been a cello principle on everything else — all of the youth programs and schools I'd been at — so it was nice to be somewhere and not have to worry about people wondering if I played cello. All of that stuff fell away from it, and that was it for me.
BNH: How do you write your songs? They've got pretty massive hooks in the choruses; do you write the choruses first and then build out from there or vice versa [no pun intended]?
BW: Usually the choruses actually come last for me. I'm actually obsessed with writing verses and I could write verses for days and then the chorus happens and I'm like, "Ok, it's time to get down to it." The choruses usually take the longest, that's what I spend the most time nit-picking over. But other than that it's different with every song. It depends if I start with a guitar or piano or I start with a track or I'm in a room with my producer, everything is different. But usually I start with the verse first.
BNH: Which songwriters do you look up to?
BW: I definitely look up to Joni Mitchell, Bob Dylan, Carole King, Michael Jackson — kind of the singer-songwriters of two generations before me who I've been obsessed with recently. My producer is getting me really into Prince. Phoenix is a band that I'm going through my phase of right now. I'm late to the game. 
BNH: Where does the name "Betty Who" come from?
BW: I had written this song when I was 17 and named it "Betty Who," and then I took the name from it and put it as my name a couple years later when the project started. It was about this boy who wouldn't love me because he was too conservative and I had too many gay friends.
BNH: After having wanted to be a pop star for this long, it must feel pretty incredible to sign with RCA. What's that been like?
BW: It's been so busy that I haven't really even had that many moments where I've gotten to sit back and be like "how awesome does this feel?" Which I guess I kind of prefer — I'd prefer not to be like, "Yeah! This is awesome." And then not have anything happen. So it's a great problem to have at this point. It's surreal, and exciting, and totally nerve-wracking all at the same time. You know, I walk down the hall to my A&R at RCA and she has the Usher Confessions album art directly across her office in the hallway. And then I walk past the Kings of Leon album art and I'm like "oh my God." That's the crazy part. 
BNH: Is there anyone of your favorite songwriters that you'd want to have writing you a song to sing?
BW: I think I would literally kill to have Miguel write a song for me. He's on RCA, so maybe I won't have to! I'm obsessed with everything he's doing. His music is so new and different and individual and exciting, and "Candles in the Sun" is one of the best songs of the last 10 years, I think. So that's definitely on my list.
BNH: What else have you been listening to besides Phoenix and Miguel?
BW: I have been listening to the new Drake album basically on repeat. I'm kind of obsessed with it at this point, I would say.
BNH: Most underrated song from any artist you love?
BW: "Kitty Cat" by Beyonce. "Kitty Cat" is done by Pharrell, and has the coolest chords and, is just my favorite Beyonce song of all time. And it's never talked about as being a good Beyonce song.
BNH: Most overrated song?
BW: "We Are Never Ever Getting Back Together." Because I think that Taylor Swift has so many other songs that are better than that. And I think the lyrics in that song leave so much to be desired comparatively to some of the lyrics she's written for other songs. I'm a big Taylor fan, so I think that "We Are Never Ever Getting Back Together" blew up so much more — not than it should have, just than I was expecting it to — and then some of her other music didn't get as much attention.
BNH: Any unknown singer-songwriters that you're especially into right now?
BW: Everytime someone asks me this question I have the same answer. Have you heard of King? King is this band — one of the girls went to Berklee but they're all living in LA now — they're so cool and great at what they do, and the two girls who sing in it have the most beautiful voices. It's three girls, I think two of them are sisters maybe. And they have an EP out with three songs on it, and then a new single out and I think they're coming out with an album in January. I saw them a couple of weeks ago and I was so blown away by them that it's all I've been listening to. 
BNH: Last question, now that you're clearly en route to being a big pop star, you should probably start thinking about your celebrity meltdown. What would be the best angle?
BW: I would like to think that I'd be kind of like Britney circa 2007. That was my first really big celebrity meltdown that I remember having — you know like watching as a kid and really feeling connected to because the first tape I bought was Britney. So I think that I love the idea of — if I was going to do anything — I would shave my head and have a Vegas wedding. That feels right to me, you know? I think that's probably where I would take it.
BNH: Good to know, I'll keep an eye out.
BW: For sure, please do. Alert my parents.