Texas Abortion Law Ruled Unconstitutional in Parts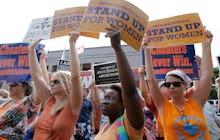 It's a big day for pro-choice advocates in Texas. The state's new abortion law, noted for being among the most restrictive in the country, was set to go into effect Tuesday. However, U.S. District Judge Lee Yeakel, after hearing three days of testimonies and arguments, has ruled that several parts of the law are unconstitutional.
For several months, pro-choice and pro-life advocates around the country have kept their eyes on Texas. In June, state Senator Wendy Davis spoke for 12 hours in an attempt to filibuster the legislation. When her filibuster was cut short, the chamber erupted in what came to be known as the citizens' filibuster. Despite their efforts, the bill passed through the Texas Senate and was signed by Governor Rick Perry.
Had the law gone into effect as planned, it would have imposed several limitations on those seeking an abortion. Doctors performing abortions would have needed admitting privileges at hospitals within 30 miles of their clinic. Yeakel wrote that the law "violated the rights of abortion doctors to do what they think is best for their patients and would unreasonably restrict a woman's access to abortion clinics." He did, however, uphold new regulations on drug-induced medical abortions because "Abortion-right groups challenging the law did not meet the threshold to show it would be an undue burden for women."
The mandate that abortions must be performed in ambulatory surgical centers — only five of the 42 clinics in the state meet this requirement — was not challenged because it does not go into effect until 2014. Furthermore, the ban on abortions after 20 weeks was not challenged because "the vast majority of abortions are performed prior to that threshold." Pro-life advocates asserted that these measures were designed to protect women's health and "fetal life." Pro-choice advocates argued that the financial pressures the law introduced would have closed most existing clinics. Indeed, because not all aspects of the law were challenged this may still be the case.
Despite Yeakel's ruling, the debate is unlikely to go away any time soon. He acknowledges that "the abortion issue is a big issue in this country and it's a divisive issue." Yeakel contends that his ruling was decided only with regards to the constitutionality of the law, not to his personal beliefs. "This court is not to rule on whether women should be allowed to have abortions ... or my personal beliefs."