The Story Of Homophobia I Find All Too Familiar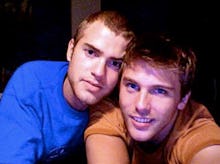 Unlike the fantasy of film, documentaries are powerful for the realities they expose: and the way they force you closer in. I have a feeling the reality of the new (yet to be released) documentary Bridegroom won't escape me. The doc, born out of a viral YouTube video, "It Could Happen to You," scares me precisely because it could happen to me.
The film concerns a man named Shane who lost the love of his life, Tom, in a freak accident. Tom grew up in a small Indiana town, not far from where I'm from. Tom's family and mine have something in common — they disapproved of their son dating guys.
After Tom's tragic death his family would not allow Shane, the man he'd been with for six years, to attend his funeral in Indiana. Shane was even threatened with physical harm if he did decide to show up. 
A year ago, I was in the midst of dating my first boyfriend. On a visit home, I asked my mom about how she might feel if I brought him around for the holidays.
My mom told me that if I brought a boy into town he wouldn't be allowed inside the house. Her reasoning? Welcoming him into the family home would mean endorsing my sinful lifestyle.
At first I was angry. I felt she was saying this amazing guy was like an animal: You can't bring that thing in the house. After a little heated conversation my mom finally said, "Just because your convictions have changed doesn't mean ours have, too."
I really had to understand where she was coming from. It took me over 15 years to accept that I was gay. I shouldn't expect my family to be on the same timeline. 
When I hear about Tom's family, though, I get sick to my stomach. I can't help but realize my family, who I truly love, may have done the same thing. 
I like to think my mother would have more grace than to exclude someone I care about from my funeral, but I really don't know if that's true. So instead of bringing a boy home this Christmas, I think I'm going to bring a few copies of Bridegroom.