15 Weird Things You Can Buy in Oprah's Charity Auction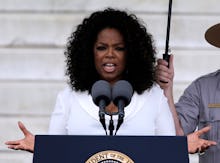 If you've ever wanted to own something that used to belong to Oprah Winfrey — and have a few hundred dollars to spare — now is your chance!
The former talk show host and co-star of The Butler is auctioning off some of her items through Kaminski Auctions, which serves "as a full service auction house and appraisal service for fine art, antiques and estates," according to its website.
Called "The Oprah Winfrey Collection," the majority of the items on the site were owned by Winfrey. Several of them have been autographed by the star.
Proceeds from the auction will benefit Winfrey's Leadership Academy for Girls in South Africa. Winfrey has also stated the auction is part of an effort to redecorate her house to reflect her "true" self. 
Here are just a few examples of the rare, albeit strange, items up for sale:
1. An Enlarged Portrait Of Oprah Winfrey
Yes, you read that right. Oprah Winfrey owns, and is selling, a portrait of herself. Actually, she owns more than one. She owns several. Some have been done with colored pencils, some show her with her dogs, and one even features Michael Jordan!
2. A 19th Century English Breakfast Table
Hop out of bed and enjoy your instant oatmeal on your $4,000 breakfast table made "with satin wood and ebony inlaid border." 
3. Two Gilt Bronze Sculptures Of Toy Dogs
For you dog lovers, this is a perfect paperweight or office desk decoration. 
4. Jetson Electric Bike
Tired of walking or relying on public transportation? Travel in style on your very own electrical bike. Also available in orange, magenta, purple, and yellow. 
5. Romans 9:25 Ink on Paper
For the scripture nerds out there: your very own framed copy of the verse, which reads: "I will call them my people, which were not my people; and her beloved, which was not beloved." It was created for the filming of Beloved by artist Amy Shultz. 
6. Decorated Oprah Chair
Even Oprah isn't above re-gifting things. This chair was made by a fan of the show for the host. 
7. Pancake Toss Painting
What kitchen isn't complete without a picture of a chef tossing a pancake in the air? 
8. Jumeau Doll
The starting bid for this doll is $2,500. Guaranteed it will give you nightmares. 
9. Early 19th Century English Sea Captain's Lap Desk
Made from "rosewood, with brass inlay, writing surface with tooled leather," this desk is a perfect place for doing research papers or getting started on the next great American novel. 
10. Custom Home Theater Sofa
Make some popcorn, call some friends, sit on this comfy couch and enjoy that Blu-ray you've been meaning to get to.
11. Four Etchings of Animals
Hang these on your wall to display your affection for animals. 
12. Victorian Bookcase
Finally! A place to store all of your Jane Austen novels. 
13. French Chandelier
Seriously, nothing says "class" like a chandelier hanging from your ceiling. 
14. Butler's Tray
Because the tray you have at home isn't "bound in faux alligator skin," this is perfect for pretending you're rich enough to have your own butler. 
15. Large Hammered Copper Tankard