5 Questions With Dave Zirin, Sports Editor Of The Nation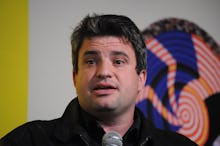 This is the first installment of a series I am starting at PolicyMic called "Five Questions With," in which progressive-minded writers, activists, intellectuals, and creative types are asked a series of questions, including their thoughts on contemporary issues of the day.
Today's guest is Dave Zirin. Besides being an all-around awesome guy, Dave Zirin is the sports editor at The Nation, as well as author of numerous books including People's History of Sports in the United States: 250 Years of Politics, Protest, People, and Play, and The John Carlos Story: The Sports Moment That Changed the World. Dave's work can be accessed at his personal website www.edgeofsports.com, and you can follow him on Twitter at @edgeofsports. 
1. David Tigabu (DT): What got you into writing about the intersectionality of sports and politics?
Dave Zirin (DZ): I was obsessed with both sports and the politics of social movements and resistance. I certainly didn't see these two worlds as connected and even had guilt issues with watching sports in between demonstrations/political meetings. But when I started to learn about the history of people like Muhammad Ali and Billie Jean King and many others, it made me realize that sports could actually be a way to introduce people to political issues they otherwise might be alienated from. It was like pulling the string on a sweater. I found that so many of the issues in sports to this day were connected and too big for the sports page. I literally went from saying to "sports and politics?" to feeling like I had an endless well of things to write about.
Photo Credit: L.A. Times
2. DT: Why do you think so many sportswriters are so averse to touching on that intersectionality?
DZ: Some certainly do. I think Keith Olbermann is doing a brilliant job of this on his new ESPN show. But generally, so many sports news sites are also broadcast partners. They see their job as reporting but also shilling for the leagues they cover. The unwritten rule is to "stick to sports" so anyone who does attempt any kind of intersectional analysis will immediately find themselves on the outside looking in.
Photo Credit: The New Yorker
3. DT: You wrote a piece in Grantland about the Washington Redskins and the prospect of a name change. There seems to be momentum in the sports writing community currently, as prominent writers like Bill Simmons and Peter King have expressed a desire to see the name changed as well. Do you think Redskins owner Dan Snyder will eventually buckle? 
DZ: It is funny that you use the word "buckle" since Dan Snyder famously wears a belt with the Redskins logo. I do think Dan Snyder will eventually succumb to the pressure. It is an objectively, dictionary-defined offensive name. The Oneida and the Choctaw and the Smithsonian Museum (not to mention voices from Bob Costas to Charles Krauthammer) have called upon him to change it. He will be stubborn, but it will happen.
Photo Credit: Sports Illustrated
4. DT: In your book, What's My Name Fool?: Sports and Resistance in the United States, you tell the stories of athletes such as Muhammad Ali and John Carlos, who engaged in acts of resistance at significant risks to their career. Do you think we are at a period where we are seeing less of that, and if so, do you think sponsorships have played a role?
DZ: We are seeing less than in the 1960s but we are seeing more than in the 1990s. It is important to remember that. The history of struggle does not move in a straight line. Today, because of social media and because of a deepening crisis in society, more athletes are using the platform and finding their voice and as in the 1960s, it will be determined far more by what happens off the playing the field than what happens on the playing field. Look at the LGBT movement. That has been visible and successful and has found expression in the world of sports.
Photo Credit: Sports Illustrated
5. DT: I've seen you write quite perilously about the future of football and the NFL in particular. What direction do you see football going in over the next several decades, as more and more evidence is brought to light detailing just how dangerous the sport is, particularly as it relates to head injuries?
DZ: The NFL looks like they have bottled up any chance being destroyed legally with the latest $765 million settlement with 4,000 former players, which indemnifies them against future lawsuits.  But they do face a far greater existential crisis. Young families are going to be pushing their kids away from the sport. Youth football numbers are already shrinking in the wake of recent media reports and suicides. The question is how much the drying up of the talent pool will affect the NFL's bottom line. I don't see how it doesn't suffer and I don't see how youth football – kids under 14 – survives the next generation. The more we learn, the more difficult and expensive it will be to insure. 
Photo Credit: Syracuse.com