Joe Lhota's Platform Summed Up For Every New Yorker in GIFs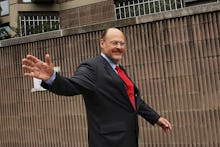 Lost in all the hoopla surrounding Dante de Blasio's Afro, Carlos Danger's photo messages, and Christine Quinn's "Regina George" persona, Republican New York City mayoral candidate Joe Lhota has been slowly regaining a higher profile in the race.
There's nothing sexy about Lhota. He's down in the polls at the moment, as Bill de Blasio's wave of support after winning the Democratic primary seems to have carried over. The bespectacled former head of the city's transportation department won't be front row at Fashion Week or throwing concerts in Prospect Park any time soon, but in a liberal city that consistently elects conservative mayors, it would be foolish to count Lhota out.
1. PRO: Stop-and-Frisk
Lhota has gone against popular opinion on the NYPD's controversial "stop-and-frisk" tactic, claiming that it keeps the city safer. He has frequently attacked De Blasio over his public safety message, and implied in recent ads that De Blasio's policies will lead to increased murder rates — a charge his opponent decried as "race-baiting."
2. ANTI: New Taxes
Taking a page from George Bush the elder's book, Lhota has pledged to not raise taxes under any circumstances and to cut taxes on business, properties and hotel stays. Lhota believes that cutting taxes on corporations would help create jobs, while de Blasio has called Llhota's plan "a $2 billion dollar giveaway to the rich." The one group both candidates agree deserves to be taxed are tourists visiting New York.  
3. PRO: Marijuana Legalization
In an overwhelmingly young and blue city, Lhota has come out strongly in favor of legalizing marijuana. While most of the country seems to have shifted left on this issue, Lhota has used this message in campaign ads, in part to show that he's not the crotchety fossil that De Blasio's campaign has painted him as.
4. ANTI: Unions
From his time as transportation chief to the dog days of the campaign trail, Lhota has consistently battled with labor organizers. Transport workers' unions, teachers' unions, and every group in between have complained about his inability to compromise and his uncanny ability to take the corporate side of every dispute. He's said nothing this year that implies his time as mayor would bring a change in this mentality.
5. PRO: Construction Across the City
Lhota has pledged to continue many of Mayor Bloomberg's construction plans, including a potential redevelopment of the convoluted area around Grand Central Terminal. In an attempt to drive business, he wants to create facilities that resemble the Brooklyn Navy Yard in every borough. It's not totally clear where this money will come from without raising taxes, but that's a battle that will be fought another day.
6. ANTI: Soda Tax
Lhota has publicly disagreed with Mayor Bloomberg's plan to ban sugary drinks over 16 ounces, claiming the city should educate people about health issues rather than telling them what they can and cannot drink. The Republican has sparred with De Blasio over the issue, as the latter does support the mayor's unpopular quest to rid the city of large sugar drinks.